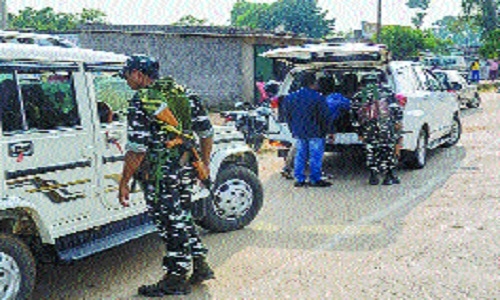 BHOPAL/RAIPUR,
MADHYA Pradesh will vote on Friday to decide the electoral fate of 2,533 candidates in 230 Assembly seats, including political bigwigs like Chief Minister Shivraj Singh Chouhan and his predecessor and rival Kamal Nath, in a poll that will be a largely bipolar battle between the ruling BJP and the Opposition Congress. Whereas, the second and final phase of Chhattisgarh Assembly elections for the remaining 70 seats will be held on Friday and decide the electoral fate of political heavyweights like Chief Minister Bhupesh Baghel, his Deputy T S Singh Deo, eight State Ministers and four members of Parliament. All arrangements have been made for a single phase voting covering all the 230 Assembly seats -- 47 of them reserved for Scheduled Tribes and 35 for Scheduled Castes -- in the state which has more than 5.6 crore registered electors, a top poll official said on Thursday.
Polling will be held from 7 am to 6 pm in all the Assembly segments except in Baihar, Lanjhi and Paraswada seats in Balaghat district, 55 booths in Mandla district's Bichhiya and Mandla seats and 40 polling stations of Dindori district, all Naxalite affected, where voting time is 7 am to 3 pm, Madhya Pradesh's Chief Electoral Officer (CEO) Anupam Rajan told reporters. Mock poll will be conducted in the presence of authorised polling agents 90 minutes before the actual start of voting, he said. A total of 64,626 polling stations have been set up in the State. Meanwhile, the first phase of elections for 20 seats in the Naxal-affected State, which has a 90-member Assembly, was held on November 7 and saw a high voter turnout of 78 per cent. A total of 958 candidates -- 827 men, 130 women and one transgender person -- are contesting for 70 seats spread across 22 districts. As many as 1,63,14,479 voters -- 81,41,624 men , 81,72,171 women and 684 of third gender -- are eligible to exercise their franchise at 18,833 polling booths.
At 26, the Raipur City West seat has the highest number of contestants, while Dondilohara in Balod district has the lowest count of candidates at four. Among the candidates, 70 each are from the BJP and the Congress. There are 43 nominees from the AAP, 62 from the Janata Congress Chhattisgarh (J) and 33 from the Hamar Raj Party in the fray. Baghel has been contesting from his traditional Patan seat where the BJP has fielded his distant nephew and party MP Vijay Baghel. Of the total 18,833 booths, 700 are "sangwari" polling booths which will be entirely managed by women personnel. The BJP has fielded a fresh face, Rajesh Agrawal, against Singh Deo in Ambikapur.