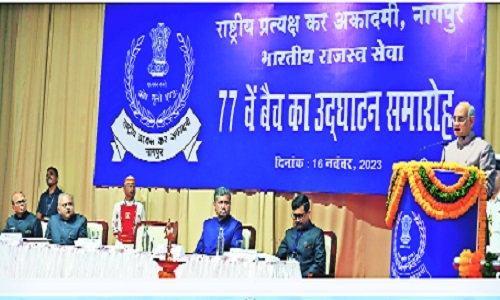 Business Reporter
Highlighting that the nation's investment landscape has improved significantly, Maharashtra Governor Ramesh Bais on Thursday said that many countries across the globe are looking at India as China's alternative for investment. Bais further urged the officers trainees of Income Tax Department to take advantage of this changed economic scenario. Bais was speaking at the inauguration of the induction training for 77th batch of IRS officers held at the National Academy of Direct Taxes (NADT) in the city. Ravi Agrawal, Member (Admin), CBDT; Jayant Diddi, Principal Director General (Trg), NADT; Munish Kumar, Additional Director General I, NADT; Siddharamappa Kappattanwar, Additional Director General (Induction Training), and others were also present on the occasion. The Maharashtra Governor also appreciated increasing India's Direct Tax collections which are being deployed for the creation of the latest infrastructure in the country and acknowledged the role of Indian Revenue Service and importance of Income Tax Department as a major source of revenue collection for the country.
Apart from this, he praised the role of NADT in shaping the careers of both the officer trainees and the serving officers of the Income Tax Department. Bais emphasized the importance of tax laws and various other laws as a part of training curriculum and pointed out the importance of academics, law, accounting and allied acts for training of officer trainees. Ramesh Bais, while addressing the new entrants, congratulated the officer trainees for getting into Indian Revenue Service. Ravi Agrawal highlighted the vision of the Income Tax Department with values of transparency, progressive taxation and voluntary compliance. He also spoke about the importance of faceless scheme and the department's other key initiatives for better tax services and generously praised the same. The National Academy of Direct Taxes, Nagpur is the apex training institute for the Indian Revenue Service Officers (Income Tax) of the Government of India. The IRS Officers are recruited through the Civil Services Examination (CSE) conducted by the Union Public Service Commission (UPSC). The direct recruit IRS officers undergo induction training of about 16 months before being posted to field offices.
During their training, the officer trainees are trained on various aspects of tax administration and are provided specialized inputs in Income Tax Laws, jurisprudence as well as allied laws, general laws and business laws. The 77th batch of IRS comprises 90 officer trainees including 35 women. 23 per cent of the trainees are from rural background and the rest are from urban or semi-urban background. As regards the educational background, around 2/3rd of the officer trainees are from engineering background. In his address, Jayant Diddi expressed his heartfelt gratitude to the Governor of Maharashtra for taking time out of his extremely busy schedule.