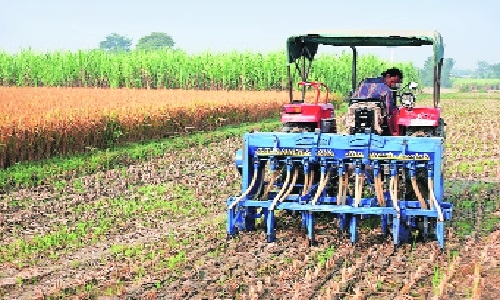 Business Reporter
Area under coverage for wheat has fallen 5 per cent to 86.02 lakh hectares so far in the ongoing rabi (winter-sown) season, according to the agriculture ministry data. The sowing area of wheat stood at 91.02 lakh hectares in the same period last year. "About 86.02 lakh hectares area coverage has been reported compared to 91.02 lakh hectare during the corresponding period of last year. Thus 5.01 lakh hectare less area has been covered compared to last year," the ministry said. Area under coverage for wheat is so far lower in Uttar Pradesh (3.87 lakh hectares), Punjab (2.28 lakh hectares), Haryana (2.14 lakh hectares) and Gujarat (0.71 lakh hectares).
The higher wheat area is reported mainly from Madhya Pradesh (3.44 lakh hectare) and Rajasthan (0.68 lakh hectare).
The government has banned exports of wheat and is offloading wheat in the open market from its buffer stock to boost domestic supply and control retail prices of wheat and atta (wheat flour). As per the data, paddy acreage is also lower at 7.65 lakh hectares till November 17 in the ongoing rabi season as against 8.05 lakh hectares, while area under coverage for pulses is down at 65.16 lakh hectares compared to 69.37 lakh hectares.
However, the acreage of coarse cereals is higher at 18.03 lakh hectares as against 15.85 lakh hectares. In the non-foodgrains category, the area under coverage for oilseeds is lower at 71.74 lakh hectares from 73.17 lakh hectares. Mustard/rapeseed acreage is down to 68.55 lakh hectares as compared with 69.31 lakh hectares. Total area under coverage under all rabi crops is lower by 3 per cent to 248.59 lakh hectares till November 17 as against 257.46 lakh hectares in the year-ago period.