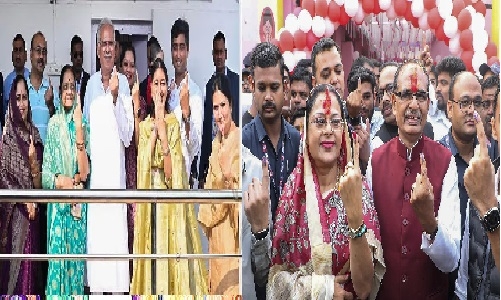 NEW DELHI,
THE Election Commission (EC) said on Friday that the tentative voter turnout till 5 pm was 70.59 per cent in Chhattisgarh and 73.72 per cent in Madhya Pradesh. The voting percentage is likely to "go upwards" when reports from all the polling stations, including those in the interiors, are obtained, the poll panel said. Voters reaching the polling stations till the end of the polling hours are allowed to exercise their franchise, the EC noted, adding that the final figures will be known by Saturday after a scrutiny of the polling-related documents. A total of 70 Assembly seats in Chhattisgarh went to polls in the second phase on Friday, while elections were held in all the 230 Assembly seats in Madhya Pradesh. Chief Minister Bhupesh Baghel cast his vote in Kuruddih village in his constituency Patan Durg district. Chhattisgarh Governor Biswabhusan Harichandan and his wife cast their votes in Civil Lines Raipur.
Talking to reporters ahead of voting, Baghel said his party will win 75-plus seats (in the 90-member assembly) and there is a one-sided contest in Patan Segment.
In Baghel's turf Patan the BJP has fielded his distant nephew and party MP Vijay Baghel. The candidature of Janata Congress Chhattisgarh (J) state president and son of former Chief Minister Ajit Jogi, Amit Jogi, in Patan has added a new dimension to the contest. Deputy Chief Minister TS Singh Deo (Ambikapur) and State Ministers -- Ravindra Choubey (Saja seat), Anila Bhedia (Dondilohara), Amarjeet Bhagat (Sitapur) and Jaisingh Agrawal (Korba) and State Assembly speaker Charandas Mahant (Sakti), who are Congress candidates from their respective segments, were among those who cast their vote. State BJP chief and MP Arun Sao, who is the party candidate from Lormi seat, cast his vote in Bilaspur segment. BJP MP and Union Minister Renuka Singh, who is party candidate from Bharatpur-Sonhat seat (spread over Korea and Manendragarh-Chirmiri-Baikunthpur (MCB) districts) cast her vote in Premnagar segment in Surajpur district.
Voting in the nine booths of Bindranawagarh --Kamarbhaudi, Amamora, Odh, Bade Gobra, Ganwargaon, Gariba, Nagesh, Sahbinkachhar and Kodomali, where process began at 7 am, concluded at 3 pm, he added. While a woman died of an unknown reason while she was standing in a queue to cast her vote at a polling booth in Kasdol assembly constituency in Balodabazar-Bhatapara district, a man was killed in an elephant attack when he was heading towards a polling booth in Korea district. In another incident, one Umendra Singh (25) was trampled to death by an elephant near Mangora village under Korea forest division, an official said. In Madhya Pradesh a total of 2,533 candidates are in the fray, among them heavyweights like Chief Minister Shivraj Singh Chouhan, the Congress' state unit president Kamal Nath, as well as several Union ministers and Lok Sabha MPs. "Though voting ended at 6pm, it will continue for some more time for people who are still in queue," the official said. Assembly polls were held in a single phase on Friday, while results will be declared on December 3. Of the 230 Assembly seats in MP, 47 are reserved for Scheduled Tribes and 35 for Scheduled Castes.
The State has more than 5.6 crore eligible voters, the official added. Prominent among those who voted early include Chief Minister Shivraj Singh Chouhan and his family, Nath along with his family, Union Ministers Narendra Singh Tomar, Jyotiraditya Scindia and Prahlad Patel, state BJP president V D Sharma and BJP general secretary Kailash Vijayvargiya. State Home Minister Narottam Mishra, Sports and Youth Welfare Minister Yashodhara Raje Scindia, Industries Minister Rajvardhan Singh Dattigaon and state CEO Anupam Rajan were also among those who cast their votes in the morning. Senior Congress leader Digvijaya Singh and his son and former minister Jaivardhan Singh, who is contesting from Raghogarh, also cast their ballots along with family members. Former minister Ajay Singh exercised his franchise in Churhat constituency.
Women were seen standing in queues for voting at various polling booths in the state including Hoshangabad, an eyewitness said. A total of 64,626 polling stations have been set up in the State. Among these, 64,523 are main booths and 103 auxiliary polling stations, where the number of voters is more than 1,500, he said. As many as 5,60,58,521 voters, including 2,87,82,261 males, 2,71,99,586 females and 1,292 third gender persons are eligible to exercise their franchise. The total number of voters also includes service and overseas electors, the official informed. A total of 2,533 candidates of political parties and independents 2,280 males, 252 females and a third-gender person are vying to enter the State Assembly.