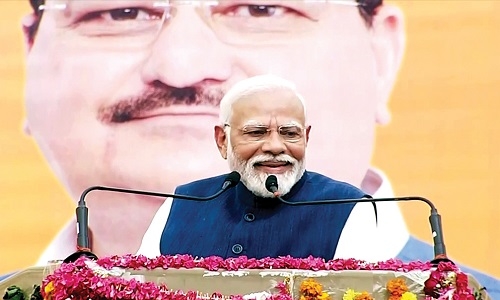 NEW DELHI,
Prime Minister Narendra Modi on Friday cautioned that deepfakes created by artificial intelligence can lead to a big crisis and stoke discontent in society, as he urged the media to raise awareness about its misuse and educate people.
Addressing the media at BJP's 'Diwali Milan' programme at the party's headquarters here, Modi said he recently saw a video of him performing garba even though he has not done so since school days. Even those who love him are forwarding the video, he said in a lighter vein. "In a diverse society like ours, deepfakes can cause a big crisis and even stoke the fire of discontent as people generally trust anything associated with the media in the same way anyone clad in 'gedua' (saffron) tends to get respect from others.
"A new crisis is emerging due to deepfakes produced through artificial intelligence. There is a very big section of society which does not have a parallel verification system," the Prime Minister told journalists at the programme where he aired views about a few things and sought their support to raise awareness. Deepfake videos are synthetic media in which a person in an existing image or video is replaced with someone else's likeness. The Prime Minister noted that earlier a movie with some controversial comments would come and go, but now it goes on to become a big issue. Even screening of such films becomes difficult on the ground that they have disrespected some section of society irrespective of the huge amount of money spent on making them, he said. Modi said he had recently suggested to ChatGPT professionals that as products like cigarettes come with health warnings, deepfakes too should carry disclosures.
Of late, deepfake videos featuring several celebrities have surfaced online, including one on Rashmika Mandanna, which led to a police FIR and action by the Union IT Ministry. Referring to his resolve for 'Viksit Bharat' (developed India) by 2047, the Prime Minister said these are not merely words but a ground reality. He suggested the 'vocal for local' campaign has found people's support, noting that a business of around Rs 4.5 lakh crore has taken place in the Diwali week, including those related to Chhath. India's achievements during the COVID-19 pandemic created confidence among people that the country is not going to stop now, he said, adding that about 130 countries attended a Global South summit hosted by India which he addressed before attending the 'Diwali Milan' programme.