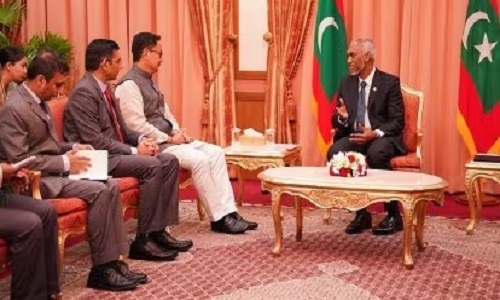 MALE,
LESS than 24 hours after taking oath as the President of Maldives, Mohamed Muizzu on Saturday formally requested India to withdraw its military personnel from his country, saying the Maldivian people have given him a "strong mandate" to make this request to New Delhi. Muizzu's request came when India's Union Minister Kiren Rejiju paid a courtesy call on the new President at the latter's office, the Maldivian President's Office said in a press release. The exact number of Indian military personnel in the Maldives is not known. Muizzu, an engineer-turned-politician, took oath on Friday as the eighth President of the strategically-located archipelago nation in the Indian Ocean.
Underscoring India's 'Neighbourhood First Policy', Rijiju represented the country at Muizzu's inauguration ceremony.
A close associate of former Maldives President Abdulla Yameen, who forged close ties with China during his Presidency from 2013 to 2018, Muizzu, 45, defeated India-friendly incumbent Ibrahim Mohamed Solih in the presidential runoff held in September. Muizzu had repeatedly indicated during the election campaign that the withdrawal of Indian military troops from the island nation is among the issues that need to be resolved by the two countries.
While discussing the matter with Rijiju, Muizzu also acknowledged the significant role of the two helicopters in providing numerous emergency medical evacuations in the Maldives. Rijiju conveyed his best wishes to the President, representing the sentiments of the Government and the people of India, the statement said. Rijiju expressed his aspiration to foster a constructive relationship with the Maldives.