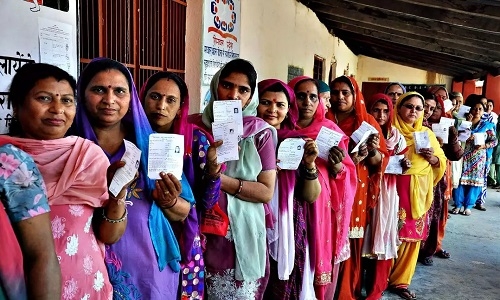 RAIPUR,
A VOTER turnout of 76.31 per cent was recorded in Chhattisgarh assembly elections for 90 seats held in two phases on November 7 and 17, poll officials said on Saturday. The turnout is slightly lower than the voting percentage of 76.88 per cent recorded in the 2018 Assembly polls. The ruling Congress and opposition BJP are locked in a keen contest in the state. "An average 76.31 per cent voter turnout was recorded in the two-phase Chhattisgarh assembly elections," a poll official said. The counting of votes will be taken up on December 3. A voter turnout of 78 per cent was recorded in the first phase for 20 assembly constituencies in seven districts of the Naxalite-affected Bastar division and four other districts on November 7, while a 75.88 per cent turnout was registered in the second and final phase for 70 seats on Friday, he said.
At 90.17 per cent, the Kurud constituency saw the highest voter turnout among the 90 constituencies, while Bijapur recorded the lowest voting percentage at 48.37%. A voter turnout of more than 80% was recorded in 38 assembly segments out of the total 90. In 50 constituencies, women voters took the lead over men. In the 70 constituencies where voting was held on Friday, polling parties have returned safely and election-related material submitted at collection centres. EVM machines were sealed in the presence of representatives of political parties and agents of candidates, an official said. Four Assembly segments in the state capital- Raipur City South, Raipur City North, Raipur City West and Raipur Rural- recorded voting percentages of 60.20 %, 55.59 %, 55.94 % and 58.55%, respectively.
In the 2018 Assembly elections, Raipur City South, Raipur City North, Raipur City West and Raipur Rural had recorded voting turnouts of 61.66 %, 60.28 %, 60.45 % and 61.11 % respectively. A total of 1,181 candidates are in the fray including Chief Minister Bhupesh Baghel, Deputy Chief Minister TS Singh Deo (both from Congress) and former CM Raman Singh of BJP. Patan seat represented by Baghel is witnessing a triangular contest with BJP fielding the chief minister's distant nephew and party MP Vijay Baghel while Amit Jogi, Janata Congress Chhattisgarh (J) state president and son of former CM late Ajit Jogi, is also in the fray. In the Ambikapur constituency, the BJP has fielded a fresh face Rajesh Agrawal against TS Singh Deo. Agrawal had joined the BJP after quitting the Congress ahead of assembly polls in 2018.