32 gamblers nabbed, Rs 33,790 seized special campaign against gamblers continues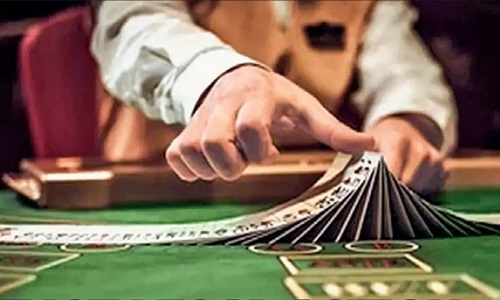 Staff Reporter
Continuing a rigorous campaign against gambling activities, police have raided several gambling dens, nabbed total 32 gamblers and seized cash of Rs 33,790 from them in different areas in the intervening night of Saturday and Sunday.
SHO of Garha police station, Brijesh Mishra informed that late night on Saturday, police received information about gambling near SMG Marriage Hall in Supatal. Receiving the information, police started a search and raided the identified spot and nabbed Sameer Chawada of Pansari Mohalla in Gorakhpur, Jarnail Singh of Pawan Bhumi Sainik Society, Abhinav Shivhare of Shakti Nagar, Tejinder Kapur of Kripal Chowk, Meenakshi Appartment, Kartik Gupta of 90-quarters Shakti Nagar, Avdhesh Singh Thakur of Shakti Nagar, Shashwat Singh Tomar of near Gupteshwar Mandir in Gorakhpur, Priyansh Jain of Shakti Nagar, Sachin Choukse of Johnson Tower Gorakhpur, Vijay Tiwari of MPEB Colony, Gorakhpur, Raunak Rajput of Shakti Nagar, Anurag Nagesh of LIC Indira Basti, Rohit Yadav of Garha, Vikal Sharma of Navnivesh Colony, Sanjeevani Nagar. Police have seize cash of Rs 16,100 and 52 playing cards from the accused.
Raid was conducted by police team comprised of SI, Yogendra Singh, Head Constable, Bhupendra Patel, Constables, Dharmendra, Ravi Sagar, Ajay Kaulash and Balmukund. SHO, Civil Line, Dheeraj Kumar Raj informed that acting on a tip-off police raided three gambling dens in Power House areas. In the first raid, police arrested Kartik Rajak of Narmada Nagar Gohalpur, Rohit Kol of Kudwari Amkhera, Adhartal, Deepak Goswami of Gagrati Nagar Gohalpur, Mohammed Shahnawaz of Leo Compound, Cantt, Jageshwar Singh of Anna Basti, Cantt and seized cash of Rs 7540 and 52 playing cards from the spot. In second raid, police arrested Saurabh Thakur of Gihalpur, Narmada Nagar, Vijay Mishra of Amkhera in Gohalpur, Prakash Gupta of Basti No-2, Gohalpur, Pradeep Sahu of Civil Line and seized cash of Rs 3,260 and 52 playing cards from them.
In third raid, police raided the spot behind Dharmshala near Christian Graveyard in Ghamapur and nabbed Virendra Sonkar of Indira Market, Abhishek Kuchbandhiya of Sheetlamai, Vinod Sharma of Dhanvantri Nagar and Shani Sharma of Anchal Nagar and seized cash of Rs 4,610 and 52 playing cards from them. Raid was conducted by police team comprised of SI, Vinod Dubey, ASI, Vijay Mannewar, Head Constable, Umashankar, Ramsharan Patel, Constable, Bunela. Similarly, Sanjeevani Nagar police raided a gambing near rail line apprehending Sumant Barman, Rohit Yadav, Kheersagar Patel and Dilraj Patel and seized cash of Rs 2280 and 52 playing cards from them. Police have registered separate cases against the accused under Section 13A of Gambling Act.