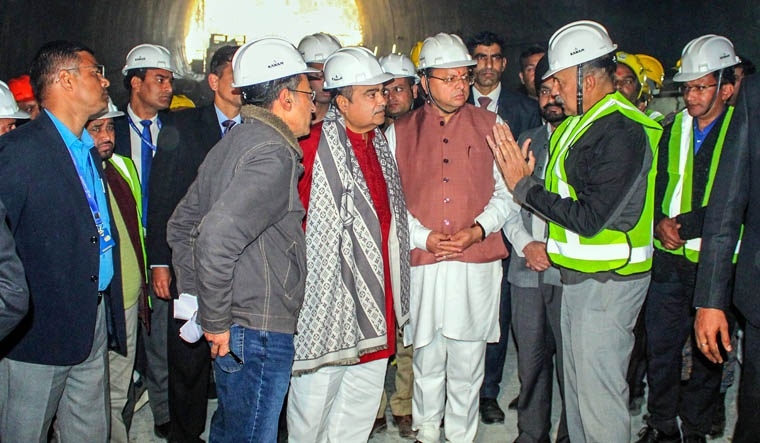 Union Minister Nitin Gadkari and Uttarakhand CM review the rescue operation in Uttarkashi district on Sunday.
UTTARKASHI :
AS RESCUE operations continue for eight days to save the 41 trapped workers at Silkyara tunnel in Uttarkashi, Secretary, Ministry of Road, Transport and Highways Anurag Jain announced on Sunday the decision to take up a fiveoption action plan. The Government has taken a decision to work on all fronts to save the precious lives of the labourers trapped in the tunnel at Silkyara, Jain told ANI. "Fortunately, there is light inside because the electricity is on. There is a pipeline, and thus water is available. There is a 4-inch pipe, which was used for compression.
Through that, we are sending food from day 1," he said. "In a high-level meeting today, various options were examined based on technical advice and 5 options are to be pursued," he added. "In addition to these 5 options, a couple of additional pipes for redundancy of food support would also be put up," he added. According to Anurag Jain, National Highways and Infrastructure Development Corporation Limited (NHDCL), Oil and Natural Gas Corporation (ONGC), Satluj Jal Vidyut Nigam (SJVNL), Tehri Hydro Development Corporation Limited (THDC) and Rail Vikas Nigam Limited (RVNL) have been assigned one option each. The Border Roads Organisation (BRO) and the construction wing of the Indian Army have also been assisting in the rescue operation, he said. Jain further said that the Managing Director of NHIDCL has been made in charge of coordination with all the Central agencies and has been stationed in Silkyara.
"The Government of Uttarakhand has appointed Dr Neeraj Khairwal, Secretary, as the Nodal Officer for coordination. All the agencies concerned have posted senior officers at the site," he informed further. The Centre has given clear directions that whatever is possible must be done for the rescue operation, Jain added. He further said,"Along with these 5 options, there is an action plan. We are working on the declared unsafe areas where we were working and stopped later due to movement on Earth. We will make a canopy and restart the work with all the security measures." Meanwhile, Union Minister Nitin Gadkari and Chief Minister Pushkar Singh Dhami reached the scene to review the ongoing rescue and relief operation. They were accompanied by Uttarakhand Chief Secretary S S Sandhu at Silkyara. CM Dhami said, "We are working on all the possibilities available. All types of expert teams are working here." CM Dhami said that the State Government is ready to provide all the help required to the agencies involved in the rescue operation. Efforts were underway on Sunday to build an access road at the top of the hill above Silkyara tunnel for initiating vertical drilling to reach 41 workers trapped for seven days. Larger diameter pipes have also been inserted up to a length of 42 metres through the debris this morning to provide enough food and other essentials to the trapped workers, a control room set up at the site said.
The Government is sending multivitamins, antidepressants and dry fruits to 41 workers trapped. Whatever is required to save the 41 trapped workers will be done and keeping the morale of workers and their family members high should be everyone's collective responsibility, Union minister Nitin Gadkari said on Sunday as he reviewed the rescue operation at the partially collapsed Silkyara tunnel. It is soft at some places and hard at other places which makes any mechanical operation difficult, he said. Horizontal drilling with the American auger is the quickest method in the given circumstances to reach the trapped workers, Gadkari said. ""American auger was working alright when it was drilling through soft soil. It faced some problems after it encountered some hard obstacle that led to the machine applying greater pressure and creating vibrations following which it was stopped for safety reasons," he said at a press conference in Silkyara.