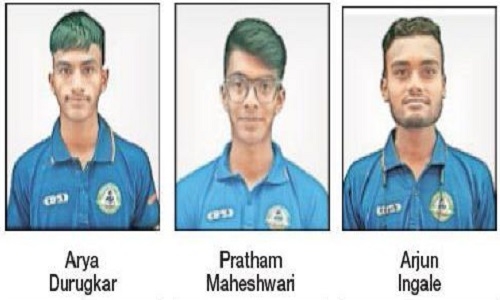 Sports Reporter
HUNTING in pack, Vidarbha bowlers wreaked havoc to bring the team close to big victory over Punjab in their Cooch Behar Trophy match at VCA's Kalamna ground on Sunday. On third day of the tournament opener, Vidarbha bowlers took 13 Punjab wickets leaving the team just two wickets short of a win. In response to Vidarbha's 377, Punjab, who resumed at 78 for 5, were shot out for 160 in 50.5 overs in their first innings. Following on, they fared marginally better and ended the day at 198-8 in 68 overs still trailing by 19 runs. If Vidarbha can get those two wickets early for an innings win, they will earn a bonus point. Even if they are made to bat again, they can get that bonus point with a ten-wicket victory.
Arya Durugkar (14.5-5-37-5) returned with a five-wicket haul and was ably supported by Pratham Maheshwari (13-5-19-3) and Devansh Thakkar (14-3-50-2). Number 8 stumper Uday Kakkar (29) and No 10 Garv Kumar (29*) scored identical runs for the visitors. In the second essay, new ball bowlers Pratham Maheshwari (22-7-41-4) and Arjun Ingle (18-2-55-4) wreaked havoc sharing the wickets equally. Rahul Kumar (49; 90b, 7x4, 1x6) and Arjun Rajput (35*; 72b, 4x4) were Punjab's top batters.
Brief scores: Vidarbha: 377. Punjab 1st innings: 160 AO in 50.5 overs (U Kakkar 29, G Kumar 29*; A Durugkar 5-37, P Maheshwari 3-19, D Thakkar 2-50). Punjab 2nd innings: 198-8 in 68 overs (Rahul Kumar 49, Arjun Rajput 35*; P Maheshwari 4-41, Arjun Ingle 4-55).