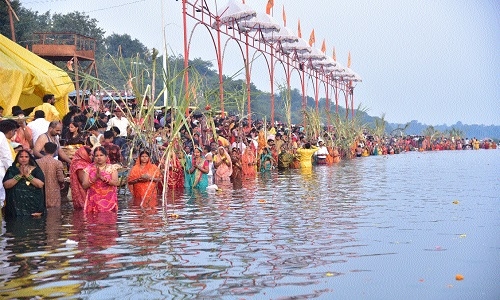 Staff Reporter
Thousands of people of Bihar and Uttar Pradesh, who live in the city, on Sunday celebrated Chhath Puja with great enthusiasm and religious fervor. People gathered on the banks of river Narmada and other water bodies, bathe in sacred water, prayed and made ritual offerings to the setting Sun. Further celebrations took place at nightfall under temporary canopies made from sugar cane stalks where offerings were laid out as a tribute to the god of fire. Well before sunrise, when the sky is pitch black, worshippers will return to the riverbank to pray to the rising sun. This ritual is considered the focal point of the ceremony of Chhath Puja. Following prayers and the purifying bathing ritual, the fast and Puja ended with the offering or prasad, to the Sun God.
The local bodies had made special arrangements at the banks of river in Gwarighat, ponds and other water bodies in different areas of the city, where devotees performed Chhath Puja. It may be noted that Chhath Puja is an Indian thanksgiving festival dedicated to the Sun God. Chhath Puja is celebrated mainly in Bihar, Utter Pradesh, Utteranchal and Jharkhand, now a days, it is celebrated almost ever where in the country. According to the Hindu calendar, Chhath, which means sixth, is celebrated on the sixth day of the new moon day in the month of Karthik. The houses, roads and ghats are cleaned and the food is cooked using the water of pious rivers.
On Panchami, the fifth day, an elder person of the family keeps a fast for the day and breaks it after the puja at night. From the next day, the fast is observed for the coming two days. The offerings comprise fruits, home-made sweets like thekuas, pedas, pakwan, chawal ke laddoos, raw vegetables and the first crop from the fields. All these sweets and offerings are arranged in scoops, baskets and trays made up of bamboo. People carry the offerings to the banks of rivers and ponds to worship the Sun God and Shashthi Mata in the evening. Later, well before sunrise, worshippers return to the riverbank to pray and give offerings (Argha) to the rising Sun and after ritual Chhath Puja concludes.