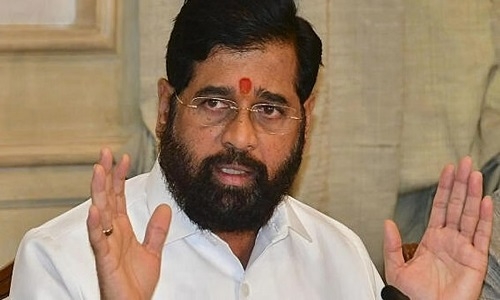 THANE,
MAHARASHTRA Chief Minister Eknath Shinde on Sunday used a music analogy to describe the current state of politics as "besur sur" (not in tune). Shinde, who heads a coalition Government comprising Shiv Sena, BJP, and NCP (Ajit Pawar faction), performed bhoomi pujan of Bharat Ratna Lata Mangeshkar Sangeet Vidyalaya in his home turf Thane and also inaugurated various civic projects. "The world had witnessed a Lata Mangeshkar era wherein she mesmerised the people with her rich repertoire of songs," he said.
The Chief Minister directed the Thane municipal corporation to ensure that roads in the city remain clean and dirt-free.
Notably, the Mumbai civic body has undertaken washing of roads in the megapolis to curb pollution, mainly caused by dust. "I want to see Thane city as clean as Mumbai," said Shinde, the MLA from Kopri-Pachpakhadi seat in the city.
Hailing the late Lata Mangeshkar, Shinde said, "There are various Yugs (eras) and during this 'Kaliyug', there was Lata-yug (era of Lata Mangeshkar). She is the pride of the country. Her songs have become a source of life for many".
He said the upcoming music school named after Latadidi is an attempt to preserve her memory and pass on the tradition of various forms of music to the coming generations.
In a dig at his political opponents, the Chief Minister said, "Every morning, some crows start cawing which continues through the day. They pollute the atmosphere. Due to them, noise pollution has increased". "Presently, everything is 'besur' sur (musical note which is not in tune) in politics," he added.