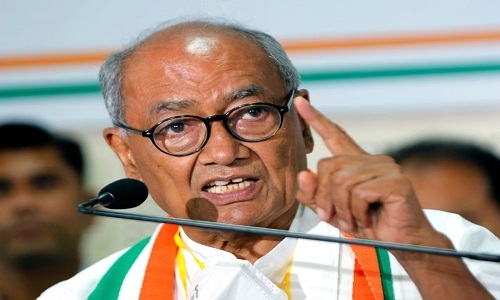 Bhavana 'Aparajita' Shukla
High voltage protests were reported against alleged murder of Salman Khan, an aide of Congress leader Vikram Singh alias Nati Raja, in Khajuraho of Chhatarpur district during Assembly elections continued on Sunday too. Congress leader Digvijay Singh on Saturday launched an indefinite sit-in outside a police station demanding that the BJP candidate from Rajnagar constituency, Arvind Pateria, be arrested in connection with the alleged murder of a Congress worker on the election day. Family members of deceased Congress worker Salman Khan, including Congress party, were protesting on Sunday too until their grivances will be addressed. Under series of developments, after getting the news of the incident, Digvijay Singh first met the family members of deceased Salman and then joined the protest near Khajuraho police station. Salman is reported to have died allegedly in a clash with the BJP candidate from Rajnagar and others. Chhatarpur police have booked the BJP candidate and 14 others in the case. A case of murder and attempt to murder has been registered.
Due to non-arrest of the accused, Digvijay Singh opened a front against the police administration. Digvijay Singh along with three Congress candidates and workers of Chhatarpur staged a protest at the police station. Digvijay Singh had alleged that police had not taken action even after registration of FIR. Even the car of the accused was not confiscated. Superintendent of Police (SP) Chhatarpur Amit Sanghi said, "In a dispute that took place, an application was given to Khajuraho police station by the representative of a political party, under which an FIR has been registered against 20 people under various sections and investigation into the matter is underway." Highly places sources suggested that the protest may conclude on Sunday. As the administration has swung into action to pacify the situation. Singh alleged, "BJP workers had gone out to distribute money the night before yesterday. People who have earned crores by doing illegal business think that they would buy voters by giving them money. As a precaution, Congress candidate Vikram Singh Nati Raja, when came to know that money was being distributed, he reached there.
There was no issue but there were animals sitting on the road, he (the Congress candidate) parked the car on the side to give way to the accused but they, including the BJP candidate Arvind Pateria, all came out of the vehicle and started abusing." After that when the Congress candidate asked them to leave, they (BJP workers) did not do so and ran the vehicle over them in which Salman was killed, he added. Singh also said, "Congress is with the family and we will adopt the entire family. I have been demanding from the SP and the Collector that when a case of murder has been registered then no why there are no arrests till now. The accused are coming to vote, yet they have not been caught yet. If it had been anyone else, their houses would have been demolished. I am with the victim's family, was there yesterday also and will be there in future also." According to the FIR, a case was registered under IPC sections 302, 307, 147, 149, 294 and 506 at Khajuraho police station in the district. FIR was registered following the complaint of Congress candidate from the seat Vikram Singh Nati Raja.