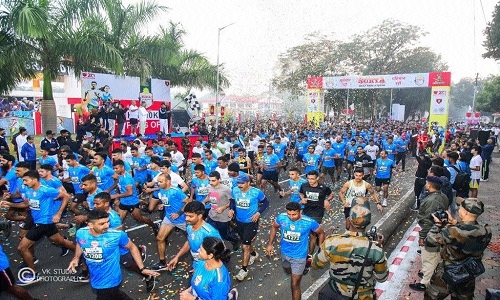 Staff Reporter
Thousands of fitness enthusiasts participated in the maiden Half Marathon of Surya Command, on Sunday. In its steadfast commitment to fostering youth engagement and community well-being, the Indian Army continues to spearhead a range of impactful programs. To invigorate sportsmanship and cultivate health consciousness among the youth of Jabalpur, an exemplary event unfolded on November 19, 2023. Madhya Bharat Area, Jabalpur under the aegis of HQ Central Command orchestrated a vibrant Half Marathon or Surya half Marathon, a dynamic platform for nurturing talent and directing youthful energy positively. This event is a part of series of events, which are setting the stage for Army Day Parade, 2024 being held at Lucknow on 15 Jan 2024. The Surya Half Marathon, a testament to the Indian Army's dedication to nurturing the potential of the region's youth, witnessed spirited participation from a total of 3000 individuals representing various age groups in Jabalpur. This event marked a pivotal milestone as it was the first-ever exclusive initiative of its kind, in which large number of military and civil participants falling within the different age groups participated. Military personal, Police personal, Fitness Enthusiast, NCC cadets, ladies, school children & local civilians participated voluntarily and promoted health and fitness for all.
The run for each category started from Cobra Ground in staggered timings after the separate flag off for each category by Lieutenant General NS Raja Subramani, GOC-in-C Central Command, Lieutenant General MK Das, GOC Madhya Bharat Area, Jabalpur and Meeta Das, Zonal President AWWA. Enthusiastic runners from various age groups and categories covered a total distance of 21 kms, 10 Kms and 05 Km stretched astride the Green environs of Jabalpur Cantonment, the prestigious training centres of Indian Army and training area, where Indian Army soldiers are trained as recruits to shape them for battlefield. The podium finishers in each category were awarded post completion of Half Marathon with cash prize amounting to 7.5 Lakh Rupees. For Half Marathon 1st position with Cash prize of Rs 50,000 in Open Category was won by Bangriya Vikram Bharat Sinh (Male Category) and by Prajakta Godbole (Female Category). Cash prize of Rs 25,000 for 10 Km run was clinched by Anil Kumar Yadav (Male Category) and by Riya Rajesh Dohatare (Female Category) in open category and for 5 Km Cash prize of Rs 10000 was clinched by Sourav Ashok Tiwari (Male Category) and by Mitali Deepak Bhoyer (Female Category). Apart from all 05 year old Miss Pragya Bhaudriya has also participated in the 05 km run and completed in 26 mins and set example for others.
The enthusiasm and fervour displayed by the youth and the citizens of Jabalpur and across the country resonated throughout the event route, with cheering spectators adding to the jubilant atmosphere. The Indian Army, through this event, aimed to promote not only the physical prowess of the participants but also their sportsmanship and tenacity. In recognition of their dedication and accomplishment, the winners securing the 1st to 3rd positions were awarded with cash prizes. Medals and certificates were given to all the finishers of the race. 2023 Asian Games medalists and Arjuna awardee recipient has also participated to encourage the participants. Indian Army's Dare Devils bike stunt team showcased their incredible precision, bravery and coordination, captivating the audience in a mesmerizing spectacle and left spectators in awe. Impressive array of Weapons and Equipment's were also displayed for runners as a source of motivation for civilians and a mean to familiarize them with their own powerful defence forces. Physiotherapy and immediate medical treatment facilities were also catered for needy runners. This Surya Half Marathon was a grand success in which maximum number of civil participants from all parts of country was there, and it gave everybody a chance to see the military cantonment of Jabalpur Military Station and with the patriotic feeling inside everyone participated with great enthusiasm.