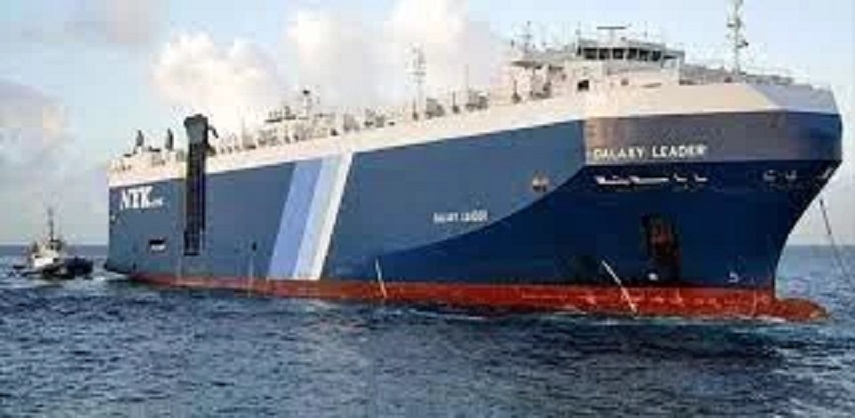 JERUSALEM :
YEMEN'S Houthi rebels have seized an Israeli-linked cargo ship, bound to India, in a crucial Red Sea shipping route and took its 25 crew members hostage, officials said, raising fears that regional tensions heightened over the IsraelHamas war were playing out on a new maritime front. The Iran-backed Houthi rebels said they hijacked the ship Sunday over its connection to Israel and would continue to target ships in international waters that were linked to or owned by Israelis until the end of Israel's campaign against Gaza's Hamas rulers.
"All ships belonging to the Israeli enemy or that deal with it will become legitimate targets," the Houthis said. Mohammed Abdul-Salam, the Houthis' chief negotiator and spokesman, later added in an online statement that the Israelis only understand "the language of force". "The detention of the Israeli ship is a practical step that proves the seriousness of the Yemeni armed forces in waging the sea battle, regardless of its costs and costs," he added.
"This is the beginning." Israeli Prime Minister Benjamin Netanyahu's office had blamed the Houthis for the attack on the Bahamas-flagged Galaxy Leader, a vehicle carrier affiliated with an Israeli billionaire. It said no Israelis were on board. The ship's Japanese operator, NYK Line, said the vessel had no cargo at the time of the hijacking. Its crew members are from the Philippines, Bulgaria, Romania, Ukraine and Mexico, NYK said. Japan on Monday condemned the hijacking. Chief Cabinet Secretary Hirokazu Matsuno said the Japanese Government was doing its utmost for an early release of the crew through negotiations with Houthi rebels, while also communicating with Israel and cooperating with the Governments of Saudi Arabia, Oman and Iran.
The Houthis said they were treating the crew members "in accordance with their Islamic values," but did not elaborate on what that meant. Netanyahu's office condemned the seizure as an "Iranian act of terror". The Israeli military called the hijacking a "very grave incident of global consequence". Israeli officials insisted the ship was British-owned and Japanese-operated.