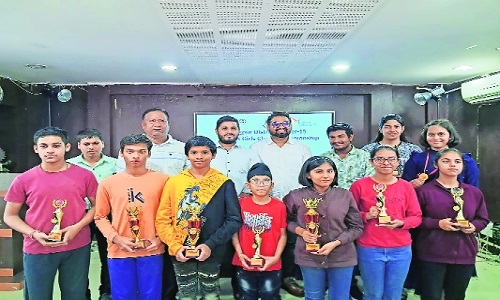 Sports Reporter
MAYANK Hedau in Open Group and Aparnita Jagatp in Girls Group annexed the titles of the Nagpur District Under-15 Selection Open and Girls Chess Championship organised by Chess Association Nagpur in association with GH Raisoni Sports and Cultural Foundation and Kalpana Prakash Welfare Foundation at Vivekanand Hall, Shraddha House, Kingsway. Mayank, top seed Sharma Sai, Sahajveer Singh Maras, Mrudul Yadav, Swaraj Mishra and Shraddha Bajaj all scored five points out of 6. However, on the basis of tie-break score, Mayank was adjudged winner and Sharma Sai, Sahajveer, Mrudul, Swaraj and Shraddha were placed from second to sixth respectively in final standing. Alok Fadnavis scored 4.5 points to take away the seventh position in the merit list.
In Girls Group, second seed Aparnita and seventh seed Vidhi Mishrikotkar were way ahead of the rest of field and scored 5.5 points out of 6. Both drew among themselves to tie for the first place. In the ensuing tie-breaker, Aparnita was declared winner while Vidhi got second position. Anisha Kumbhalkar scored 4.5 point to clinch third position. Lakshita Kranti Rathod with 4 points to her credit was placed fourth. Anushka Deshpande, Swanandi Sole, Anvi Hirde, Shanaya Shelkar, Swara Gandhi and Arya Bhaldhare also scored 4 points each and were placed from 5th to 10th position respectively based on their tie-break scores.
Total 7 players — Mayank, Sharma Sai, Sahajveer, Mrudul, Swaraj, Shraddha Bajaj and Alok Fadnavis were selected to represent Nagpur District and five girls — Aparnita, Vidhi, Anisha, Lakshita and Anishka will represent Nagpur in Maharashtra Under-15 Open and Girls Chess Championship to be held at Sangli from November 25. Prizes were distributed at the hands of international rated player Harsh Kanoje. Bhushsan Shriwas, Secretary, Chess Association Nagpur and Kalpana Prakash Welfare Foundation, Chief Arbiter FA Shiva Iyer were present on the dais. SNA Shyam Agrawal conducted the programme and proposed a vote of thanks. FA Shiva Iyer was the Chief Arbiter who was assisted by FA Amit Tembhurne, SNA Prayas Ambade, SNA Shyam Agrawal and Prathamesh Machave.