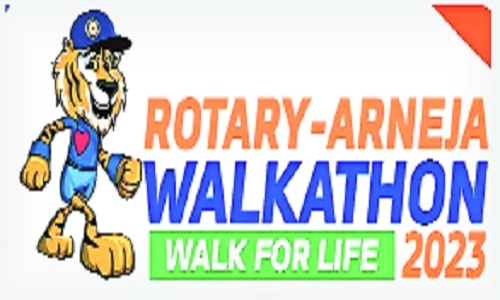 Business Reporter
The 18th edition of the 'Rotary-Arneja walk for life', Walkathon is all set to be held on November 26 at 6.30 am. The event is organised by Rotary Club of Nagpur and sponsored by Arneja Heart and Multi-speciality Hospital and co- sponsored by M/s Dinshaw and M/s Plasto. The Walkathon has over the year attracted men, women, and children to walk for health. The 3 km, 6 km and 9 km circuit of the Walkathon will start from St. Ursula School ground, Civil Lines. There will be walkers in the following categories - below 18 years, 18 to 60 years and above 60 years. Batuk Bhai Jewellers, WCL, MOIL, Infocept, MKH Sancheti Public School are the other sponsors besides Arneja Hospital, M/s Dinshaw and M/s Plasto. The registration forms are available at Arneja Heart Institute Ramdaspeth, Dinshaw's Ice Cream Parlour - SJTI Complex Sadar, Tauby's at Ramdaspeth and Deonagar, Titan Showroom (all outlets), Ajmera Tyres (all outlets), Venus Book Centre-Gokulpeth and LG Best Stores-Dhantoli.
The form will also be available every morning at Shivaji Nagar Park, Mankapur Stadium, Japanese Garden and Walkers Street- Civil Lines, Dagdi Park - Ramdaspeth and Gandhi Bagh Garden. For on-line registration visit www.rotarywalkathon.com Every participant will get a T-shirt, cap and Dinshaw's snack box. The caps are being sponsored by M/s Plasto. There are attractive prizes. On this occasion renowned Zumba artist, Pawan Mangoli will engage everyone with his Zumba moves. There are attractive stalls and eateries too. It may be mentioned here that wanting a sporting event associated with Nagpur gave birth to the Nagpur Walkathon, way back in year 2005. It was an important milestone in the history of Rotary Club of Nagpur which celebrated its Diamond Jubilee in that year.
It was also the Centennial Year of Rotary. Since then, the thrust has always been on promoting the benefit of walking in all age groups and making it more festive and participative rather than a competitive one. Over all it is a fun filled Sunday where the whole family can immerse themselves in the fun, frolic and fiesta that this extravaganza promises for everyone. For further details, contact Parag Date (M: 94221 08029) or Harshit Jain (M: 77739 52341).