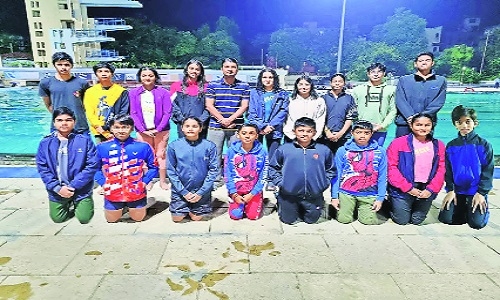 Sports Reporter
AS MANY as 17 swimmers of Aqua Sports Club will be representing Nagpur Division at the School State Aquatic Championship scheduled to be held at Shiv Chhatrapati Sports Complex, Balewadi, Pune from November 7-11. The championship is being organised by District Sports Office, Pune. The swimmers will represent Nagpur Division in the following events: Ved Pimpalkar - 200m, 400m freestyle and 200m backstroke. Aditri Payasi - 50m freestyle, 50m butterfly and 50m backstroke. Sanika Kawade - 50m, 100m, 200m backstroke. Yashashree Dhole - 50m, 100m, 200m butterfly. Siddhant Bodele - 50m, 100m, 200m breaststroke. Aditya Sharma - 50m, 100m, 200m butterfly. Mahi Deshmukh - 50m, 100m, 200m backstroke. Riya Shinde - 50m, 200m butterfly.
Atharva Raut - 100m freestyle, 4x100m freestyle and medley relay. Varad Pimpalkar - 100m backstroke. Arsh Yenurkar - 800m freestyle. Harsh Kulkarni - 200m butterfly. Ahrav Dawada - 100m freestyle and 50m butterfly event. Twin sisters Ananya and Anayata Thombre - 4x100m freestyle relay. Gargi Hivare - 4x100m freestyle relay and medley relay. Darsh Bhangde - diving. All the above swimmers are the regular members of Aqua Sports Club and train under able guidance of senior coach Dr Pravin Lamkhade (NSNIS, Patiala) and ASCA Level 5 coach Vishal Chandurkar (Florida, USA).
Gargi practices at Aqua Sports Club, Vaishali Nagar Branch under the guidance of Bhola Ambade. Aqua Sports Club President Mohan Nahatkar; Secretary Mangesh Gadre, Director of Midland Sports Prashant Ugemuge, Vice-President (Operations) Midland Sports Preeti Lanjekar, Manager (Operations) Midland Sports Ashwin Janbandhu, parents of swimmers and sports lovers have congratulate the swimmers for their success and wished them good luck for their coming endeavour.