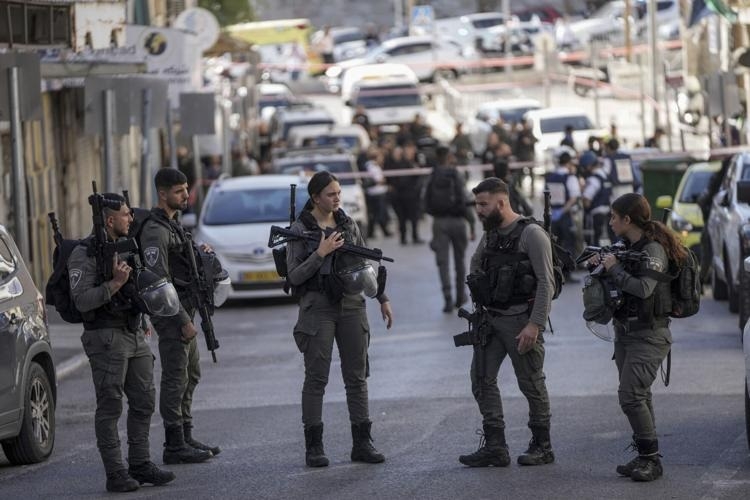 (Gaza Strip),
Palestinian death toll from war passes 10,000 DEIR AL-BALAH
ISRAELI forces severed northern Gaza from the rest of the besieged territory and pounded it with intense airstrikes overnight into Monday, as the Palestinian death toll from a month of fighting passed 10,000. An even bloodier phase is expected as Israeli troops push into the dense confines of Gaza City. Palestinians held a mass funeral for dozens killed a day earlier in strikes in the south, where Israel has told civilians to seek refuge though it has continued to strike targets all across the coastal enclave. Troops are expected to enter Gaza City soon, Israeli media reported, and Palestinian militants who have had years to prepare are likely to fight street by street, launching ambushes from a vast network of tunnels. Casualties will likely rise on both sides in the war, which has already killed at least 10,022 Palestinians, according to Gaza's Health Ministry, which does not distinguish between fighters and civilians. Some 1,400 Israelis have died, mostly civilians killed in the October 7 incursion by Hamas that started the conflict. Both tolls are unprecedented in the decades-old conflict.
The Israeli military said late on Sunday that it had cut off northern Gaza from the south, calling it a "significant stage" in the war. On Monday, it said that aircraft struck 450 targets overnight and ground troops took over a Hamas compound. A one-way corridor for residents to flee south remains available, according to the military, for the hundreds of thousands of Palestinians who remain in Gaza City and other parts of the north. Some 1.5 million Palestinians, or around 70 per cent of Gaza's population, have fled their homes since the war began. Food, medicine, fuel and water are running low, and UN-run schools-turned-shelters are beyond capacity, with many sleeping on the streets outside.