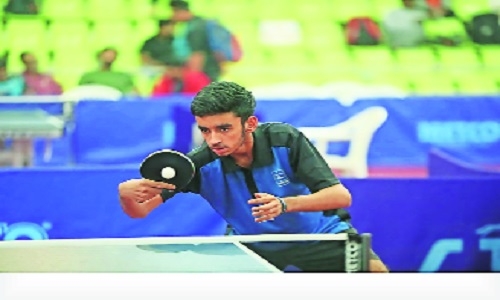 Sports Reporter
CITY'S top paddler Aadi Chitnis has won the boys singles Under-19 title in the 5th Maharashtra State Ranking Table Tennis Tournament held in Sangli, on Wednesday. Seeded fourth in his age group, Aadi upset second seed Thane's Siddhant Deshpande 4-3 in the summit clash that went to the wire. Aadi raced to 2-0 lead but the better ranked player pulled one back. Aadi restored lead to make it 3-1. Siddhant levelled the scores winning the fifth and sixth games taking the match into the seventh and deciding game.
Aadi fought back and came up with some fine play to take the final game and the title. The scores read 11-7, 13-11,
3-11, 11-5, 9-11, 6-11, 11-5. In the semis, Aadi got the better of The Suburban Table Tennis Association (TST), Mumbai's 8th seed Sharveya Samant 11-8, 11-7, 5-11, 11-9. Sharveya had stunned top seed of Nashik Kushal Chopda in the quarters. In his quarter-final match, Aadi defeated 12th seed Dhruv Shah of TST 11-7, 12-10, 8-11, 5-11, 11-8. Aadi, a student of Dr Ambedkar College Nagpur, practices in India Khelega Acadamy, Pune under coach Sanmay Paranjpe. In the boys Under-17 singles, Nagpur's fifth seed Tejas Wasnikar lost his quarter-final match to fourth seed Dhruv Vasaikar of Thane 11-9, 4-11, 12-14, 11-8, 11-7. Tejas beat Yashwin 12th seed Yashwin Gade of Thane 11-7, 11-8, 10-12, 11-6.