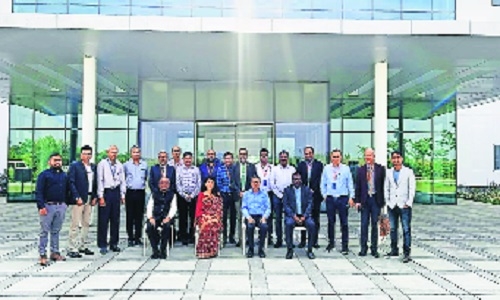 Business Reporter
Swati Pandey, Vice Chairman and Managing Director of Maharashtra Airport Development Co. Ltd (MADC) recently conducted a first-of-its-kind round table meeting 'SANGLAAP' with heads of various companies in MIHAN. Pandey initiated the concept to share the various developments done by MADC, it's future plans and initiatives towards Corporate Social Responsibility (CSR) with all the stake holders of MIHAN. A detailed presentation showcasing various focus area in the field of upgradation of infrastructure, facilities to existing stake holders, speedy approvals, rapid disposal of vacant land and CSR activities was given to the company heads present in the roundtable meeting. It was informed that various infrastructure facilities has been upgraded like resurfacing of roads, 24X7 power supply, procurement of 2 new fire tenders, water bowser and recue boat and induction of additional fire men at the Fire Department and other infrastructure.
Further, Pandey also informed the participants that MADC shall be constructing a 3.5 MLD sewage treatment plant which shall be ready and operational in 3-4 months. Apart from MIHAN SEZ and Nagpur International Airport, MADC is upgrading the Shirdi Airport under Regional Connectivity Scheme (RCS) with a new terminal building, she informed that Shirdi Airport which started with a facility of 300 passengers is now catering 2,000 passengers daily and hence new terminal building is getting ready to facilitate the ever-increasing passengers at Shirdi and efforts are being taken to have a direct connectivity from Nagpur to Shirdi. She further updated about various development at other airports like Ratnagiri Airport, Amravati Airport, which are being developed by MADC. Pandey briefed the forum on various initiatives taken on the CSR front like skill development and empowering women PAPs of MIHAN.
Pandey also appealed to all stake holders to join hands towards CSR contribution for PAPs of MIHAN area in the area of health, skill development, employment and focusing more on ecological development appealed to all stake holders to jointly develop a 'Green Zone' on a 2 acre plot in MIHAN. The meeting was hosted by HCL Ltd at their campus in MIHAN SEZ. Arvind Kumar – Delivery Centre Head at TCS, Shailesh Aware, Centre Head – HCL, Rachit Bhandar, Delivery Centre Lead – Infosys Ltd., Manish Agarwal – Operations Head, Tech Mahindra, Sameer Bendre – COO Persistent Systems Ltd., Amit Kaleasst. Vice President, Global Logic India Pvt. Ltd., Ashish Kohle, Head – Human Resource, Tata Advanced Systems Ltd, and others were present in the meeting.