Villagers demand cancellation of Upper Narmada Pariyojana, stage demonstration in Dindori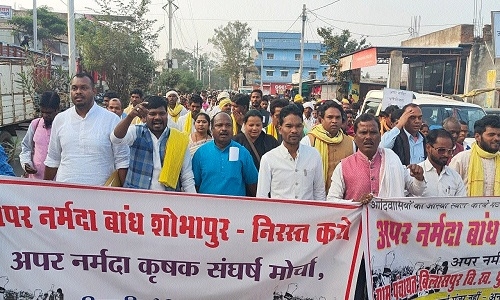 Our Correspondent
Dindori,
Under the banner of Upper Narmada Pariyojana Krishak Sangharsh Morcha, District Panchayat President Rudesh Paraste led the farmers in staging protest in demand for cancellation of Upper Narmada Pariyojana. The protesters took out foot march till Collectorate and submitted memorandum addressed to President of India, Governor of MP state and Chief Minister of MP state that Dindori and Anuppur are Scheduled Areas hence without consent of villages construction of freedom has been proposed. Under Upper Narmada Pariyojna, construction of three dams has been proposed, at Shobhapur village on border of Dindori and Anuppur district, at Marwari village in Mehendwani block and on border of Mandla and Dindori district. In their memorandum they stated that Water Resources Department is issuing compensation to the villagers. The private land of villages is now being taken over by government which should be stopped. The members said that with construction of these projects more than 8000 families would be displaced, their culture, their tradition, their forest, land biodiversity would be submerged in the water. Locals have submitted many memorandums to government demanding construction of small dam instead of big dam as it will give water to farmers for irrigation and even villages would not have to be displaced. While submitting memorandum, District Panchayat President Rudesh Paraste, JYS State President Indrapal Markam, Hari Maravi, Raja Maravi and villagers and farmers present. As a precautionary measure, police force was deployed at collectorate. DSP Vijay Kotharia, SDOP Akanksha Upadhyay, City Kotwali Inspector CK Sirame were present. SDM Baalveer Raman accepted the memorandum from farmers and assured them that PESA
Act has been implemented in state and no project would be started without consent of Gram Sabha and villages.
The villagers of village Padaria, Dhaloni, Maargaon, Bharratola Pondi also staged memorandum in front of Water Resources Department office. Farmers complaint that reservoir in village Pateria, Samnapur block is in bad state since last 3 years but department is not paying attention towards it repairing for it. With collapse of Pateria reservoir, the villages of Pateria are affected but department is not paying heed towards their problem. Villagers are migrating to other places as they are unable to do farming in absence of water.