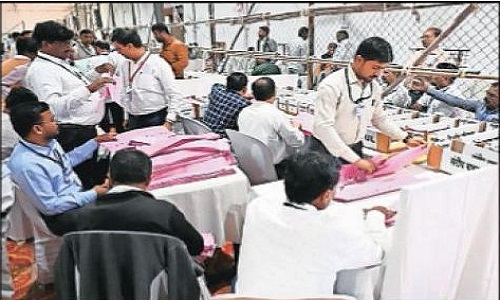 Amravati Bureau Amravati,
DHEERAJ Lingade of Mahavikas Aghadi (MVA) was ahead of Bharatiya Janata Party's (BJP) Dr Ranjit Patil as counting for Amravati Division Graduates' Constituency polls was underway till the filing of this report on Thursday. Out of the 1,02,403 first preferential votes polled, until the counting 84,000 votes was completed, Lingade was leading by 1,576 votes. He had had polled 35,375 votes while Dr Patil had got 33,799. Till the filing of this report figures of valid and invalid voters was not declared. The quota required for victory will be fixed after counting 1,02,834 votes is of completed.
Meanwhile, Lingade was leading right from the start. In the first round he was leading by 680 votes and after the second round of first preferential votes, he stretched the lead to 1,761 votes. In third round, Dr Ranjit Patil managed to reduce the lead providing some relief to BJP activists. After the completion of 8,4000 votes in thethird round, Lingade had35,375 votes while Dr Patil has33,799.Thus, Lingade was leading by 1,576 votes. It may be mentioned herethat in the last MLC election, Dr Ranjit Patil had polled 78,051first preferential votes whenthe quota for victory was fixedat 61,681. It may be mentioned herethat 49.67 percent voting wasregistered on January 30. Thecounting of votes started at Nemani Godown, Badneraroad at 8 am on Thursday. Counting was done on 28 tablesand 1,000 votes were countedon every table in every round. In the first three rounds counting of 28,000 first preferential votes was done while the fourthround was of 18,403 votes.Total 340 officers and staffers toiledto complete the countingprocess. Strong police bandobast wasdeployed to avoid any untowardincident.