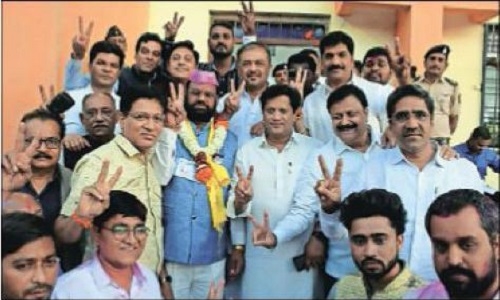 Staff Reporter
SUDHAKAR Adbale of Vidarbha Madhyamik Shikshak Sangh, supported by Mahavikas Aaghadi (MVA), won the Teachers' Constituency elections in Nagpur Division by a comfortable majority. He completed the quota of first preference votes in the first round itself. According to political pundits, the victory of Adbale is the first such grand victory as far as the elections of Teachers' Constituency is concerned. Adbale got 16,700 votes of the valid 32,945 votes polled. Adbale left two candidates who were in the race far behind in the first round itself. Nago Ganar of Maharashtra Rajya Shikshak Parishad could secure 8,211 votes and Rajendra Zade of Shikshak Bharati, who stood second in last elections, could garner only 3,358 votes.
As to others, except Ajay Bhuyar of Wardha (1,268 votes), no one could even reach the figure of 1,000. There were 22 candidates in the fray. The voting was held on January 30. There was tremendous response from the voters as 86.26% voters exercised their franchise in the Division. The total number of votes polled were 34,360 of which 1,415 were found invalid. Since there were 28 tables and 1,000 votes were given on each table, in the first round, 28,000 votes were counted. Of the 28,000 votes, Adbale secured 14,069 votes where he took unassailable lead as Ganar got 6,366 votes, while Zade secured only 2,742 votes. In the second round, of the 6,360 votes counted, Adbale got 2,631 votes, Ganar 1,845 and Zade only 616 votes.
With 32,945 votes found invalid, a quota of 16,473.5 votes was fixed for victory. Adbale secured 16,700 votes and he emerged victorious. Though Adbale's victory was expected, the margin with which he defeated Ganar was beyond imagination.
AAP fields candidate for first time
THIS is for the first time that Aam Aadmi Party (AAP) registered its presence in any of the elections of State legislature. It fielded Dr DevendraWankhede for Nagpur Division's Teachers' Constituency polls, who has been fighting for various public issues in Nagpur. Dr Wankhede is associated with AAP since beginning and considered as activist. Though he could not reach the figure of 1,000, he stood fifth among 22 candidates, by securing 863 votes.
19 candidates lose deposit
AS PER the rule, candidates were expected to secure 2,746 votes in the Nagpur Division's Teachers' Constituency polls. There are only three candidates - Sudhakar Adbale of Vidarbha Madhyamik Shikshak Sangh, Nago Ganar of Maharashtra Rajya Shikshak Parishad and Rajendra Zade of Shikshak Bharati who polled more than 2,746 votes. There were 22 candidates which means, rest 19 candidates lost their deposit.
Admin conducts polls, counting in smooth manner
THOUGH the Teachers' Constituency Polls were a complicated one, administration under Divisional Commissioner Dr Vijayalakshmi Bidari with Nagpur Collector and Assistant Election Officer Dr Vipin Itankar, Gadchiroli Collector Sanjay Meena, Chandrapur Collector Vinay Gowda, Bhandara Collector Yogesh Kumbhejkar and Wardha Collector Rahul Kardile, Additional Collector of Maharashtra State Road Development Corporation Nishikant Suke, Nagpur Zilla Parishad Chief Executive Officer Saumya Sharma and Deputy Commissioner and Assistant Election Officer Pradeep Kulkarni along with senior officials, counting supervisors, co-supervisors conducted the process of voting and counting in a smooth manner. Throughout the process, no untoward incident took place. The administration did not give chance to anyone to raise any objection. Nobody left any stone unturned while delivering their duty.