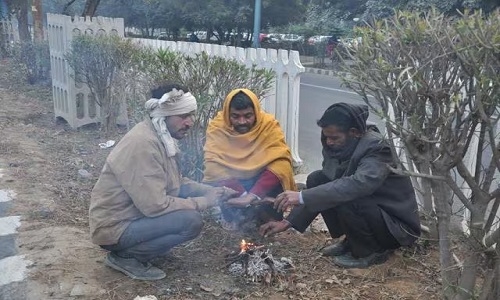 Staff Reporter
AFTER a long break of almost 15 days, the winter chill is back in city as the minimum temperature took a steep dip by 4.9 degrees Celsius on Thursday. Nagpur, on Wednesday, recorded 17.6 degrees Celsius minimum temperature. Whereas onThursday, the minimum was 12.7 degrees Celsius, which was 4.9 degrees difference in just 24 hours. The sudden increase in winter chill raised discomfort among the citizens. Despite chilly night, the day temperature settled at around 30 degrees Celsius in Nagpur. Scorching day time and chilly night caused viral disease among many citizens in last couple of days.
According to Indian Meteorological Department (IMD),"The winter chill was felt due to presence of Northerly winds in the lower atmosphere. The winter chill will remain for one or two more days and then, the minimum temperature will also start increasing." OnThursday, Gondia recorded the lowest minimum temperature in Vidarbha with 10.5 degrees Celsius, whereas Bramhapuri was second lowest with 12.5 degrees Celsius. Akola (13.6 degrees Celsius), Amravati (13.3 degrees Celsius), Wardha (13.5 degrees Celsius), Chandrapur (14.8 degrees Celsius),Washim (14.8 degrees Celsius),Yavatmal (15.0 degrees Celsius), Gadchiroli (15.2 degrees Celsius) and Buldhana (15.0 degrees Celsius) also recorded dip in minimum temperature in last 24 hours.
The Weather Department predicted that, the maximum temperature for next 10 days, in all over Vidarbha, will settle around 30-32 degrees Celsius and the minimum will be around 16 degrees Celsius. The weather will remain dry and the scorching sun will raise discomfort.