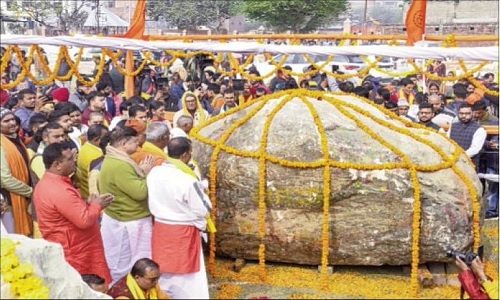 AYODHYA (UP),
SPECIAL rocks from which the idol of Lord Ram will be carved out and placed in the sanctum sanctorum of the Ram Temple have arrived from Nepal, a senior functionary of the temple trust here said. The Shaligram rocks arrived here late on Wednesday night. Special prayers were held on Thursday afternoon following which the rocks were presented to the Shri Ram Janambhoomi Teerth Kshetra Trust. Fifty-one vedic teachers also worshipped the rocks, officials said. Mahant Tapeshwar Das of the Janaki Mandir in Nepal presented these rocks to Champat Rai, general secretary of Ram Temple Trust, they said.
The idol of Lord Ram's 'baalroop' (child form) carved out of these stones will be placed in the sanctum sanctorum of the temple which is expected to be ready by January next year. Vishwa Hindu Parishad's national secretary Rajendra Singh Pankaj had started from Mustang district of Nepal onJanuary 25 with the consignment of the two sacred rocks. These rocks, that are 60 million-years-old, reachedAyodhya from Nepal on twodifferent trucks. One rockweighs 26 tonnes and the other weighs 14 tonnes, PrakashGupta, office in-charge of temple trust had earlier said.
The two rocks were found inthe Gandaki river at a placeclose to Shaligrama orMuktinath (place of salvation)in Nepal's Mustang district. Senior Nepali Congressleader and former HomeMinister Bimalendra Nidi hadtaken a lead to excavate thetwo rocks. After a decision was taken toconstruct the temple, its construction organising committee had been looking for sacredrocks from Nepal andapproached Nidi followingwhich he found the sacredrocks.