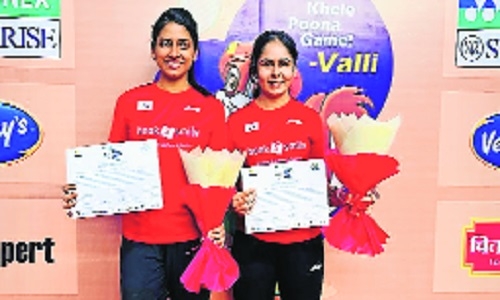 Sports Reporter
CITY'S Ritika Thaker and Simran Singhi settled for bronze medal in women's doubles in the Senior National Championships that concluded at Balewadi in Pune on Tuesday. They had lost to the ultimate winners Gayatri Gopichand and Treesa Jolly in the semi-finals.
Speaking from Pune, Ritika and Simran said that they were happy with their performance and knew they could reach the semis though their half was tougher than the lower half. About their semis, they said they needed to put in more effort and improve their defence to counter Treesa. The Nagpur duo gave tough fight before going down 16-21,
18-21.
Ritika and Simran also said playing together has helped them a lot. They are playing under Indonesian coach at Suchitra Academy in Hyderabad. They said they were very thankful to parents, Nagpur District Badminton Association and Maharashtra Badminton Association for their constant support. The duo also thanked coaches Ajay Dayal and Pradeep Raju of Suchitra Academy for being their constant source of inspiration.