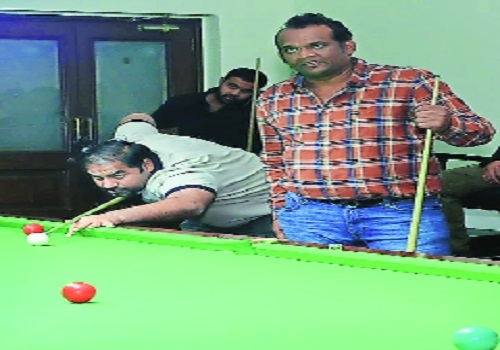 IN THE battle between father and son, father prevailed as the pair of Girish Dewani-Rohit Sial recorded win in the Adv MK Naidu Memorial Snicket League under way at the Billiards Room of Central Provinces Club on Sunday.
The Girish Dewani-Rohit Sial match against Talib Ahmed-Suraj Dewani witnessed father-son duo poised against each other. The match demonstrated that 'baap was baap' as Girish and Rohit scored 92 and Talib-Suraj could muster 75.
Manoj (Bobby) Jain-Aaditya Parekh scored 253 to beat Dhiraj Titheja-Ramdayal Jaiswal, who scored 106.
In another match Akshay Thakkar-Ajinkaya Shirbhavikar made 238 to record win over Ajay Chandwani-Shivagya Arora, who could score 90.
The seeded combination of Raju Kamwani and Ujjwal Kothari had the better of their rivals Bindesh Paul-Dushyant Mhaisalkar registering an innings victory. Raju made a break of 51 and 52 and his partner Ujjwal made a break of 67 and 69. Also, Raju potted all the 10 red balls in one break. Raju and Ujjwal scored 404 while Bindesh and Dushyant could manage just 61.
In the match between Vikrant Gulati-Yogesh Padole against Tushar Sharma-Siddharth Narang; Vikrant made breaks of 51 and 55 whereas Yogesh made breaks of 52 and 58 and scored total of 298. Vikrant also potted 10 red balls in a single break. Their opponents could score only 33. In yet another game, Siddharth Joshi-Ashish Agrawal were poised against Mihir Shah and Jaidev Menon. The former scored a huge 219 while opponents Mihir and Jaidev scored 145.