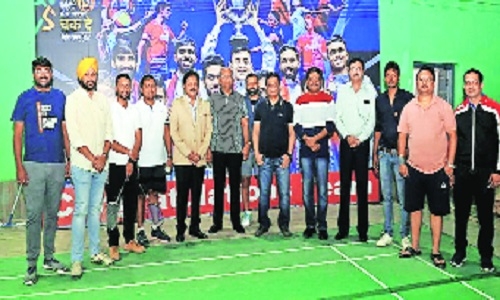 Sports Reporter
THE Badminton and Table Tennis Tournament, organised by High Court Bar Association (HCBA), got huge response from the fraternity as many turned out to showcase their skills on the courts at Subhedar Hall on Saturday.
Adv Bhakti Pimplikar and Adv Shahrukh Shah emerged women's and men's singles champions respectively in badminton while the duo of Adv Nisha Gajbhiye and Adv Rohit Borwankar took the honours in table tennis.
At the outset, the event was inaugurated by Justice Vinay Joshi, Judge Bombay High Court Nagpur Bench in presence of Sr Adv SK Mishra.
The tournament was very well organised and was highly appreciated by members of HCBA. The tournament was conducted by the efforts taken by Adv Gaurav Belsare and Adv Anirudh Ananthakrishnan who co-ordinated for badminton while Adv Ashutosh Potnis and Adv Sagar Katkar co-ordinated for table tennis. Adv Atul Pande, President, HCBA; Adv Amol Jaltare, Secretary; Adv Pruthviraj Chauhan, Jt Secretary; Adv Vishwajeet Uberoi, Library Incharge; Adv Amol Hunge, Executive Member, HCBA were present and supported the event and making it a grand success.
RESULTS
Badminton
(Winners and runners-up)
Women's singles: Adv Bhakti Pimplikar, Adv Aparna Jha. Women's Doubles: Adv Bhakti Pimplikar-Adv Aparna Jha, Adv Sunita Paul-Adv Mrunalini Nayudu. Mixed Doubles: Adv Vishal Naik-Adv Bhakti Pimplikar, Adv Gaurav Belsare-Adv Tejaswini Belsare. Men's singles: Adv Shahrukh Shah, Adv Nilesh Jangid. Men's Doubles: Adv SS Ahmed-Adv Nilesh Jangid, Adv Gaurav Belsare-Adv Vishal Naik.
Table Tennis
Women Singles: Adv Nisha Gajbhiye, Adv Sunita Paul. Men Singles: Adv Rohit Borwankar, Adv Pranav Deshmukh.
Men's Doubles: Adv Rohit Borwankar-Adv Ashutosh Potnis, Adv Pranav Deshmukh-Adv Nishchay Raut. Mixed Doubles: Adv Amol Patne-Adv Nisha Gajbhiye, Adv Amey Ghatole-Adv Arpana Jha.