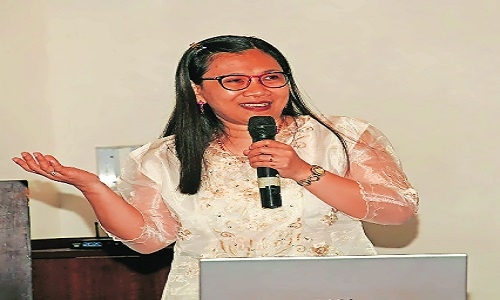 Business Bureau
Expressing her views at the session organised here on Sunday by the Vidarbha Management Association (VMA), Dr Monaloufel Rosario F Jasmin, Faculty at the School of Accounting and Business in the Philippines, said public relations lead to progress and development. She said that citizens of Philippines have learnt the art of keeping themselves happy no matter what the situation is. "Even flood could not deter them from enjoying that very moment. So finding an opportunity in adversity makes Filipinos great," she observed. Commenting on many successful entrepreneurs in her country, she said the citizens have also taken a leap. "You can see Philippines entrepreneurs and professionals in many restaurant networks, showrooms, airlines, etc. across the globe. This is possible because they make good contacts and maintain professionalism," she said.
Even at the local levels, they are running businesses smoothly on cooperative basis. "Supply of materials, production, marketing and sales are being done on a cooperative basis. It gives them an opportunity to earn," she said.
Dr Monaloufel also said that proper marketing is most important for any in business. "The entrepreneurs should be able to interact directly with the customers. In Philippines, the entrepreneurs are doing it and progressing. In addition, there is constant emphasis on the quality of the products. Not only this, there is a positive change in production along with quality by putting equal emphasis on innovation. It keeps the trust of customers intact and growing," she pointed out.
The speaker further added that the urge to learn and do something new, encourages citizens to come forward in the competition. "If others are growing faster than you, appreciate them. Always maintain the spirit that others should also achieve progress," she said. Dr Monaloufil Rosario Jasmin participated in the Q&A session as well. Earlier, Augment Tip was given by Niraj Gandhi on 'Elevator Pitch'. Moderator of the session was Dr Krunal Parekh while session in charge was Dr Vishal Lichade.