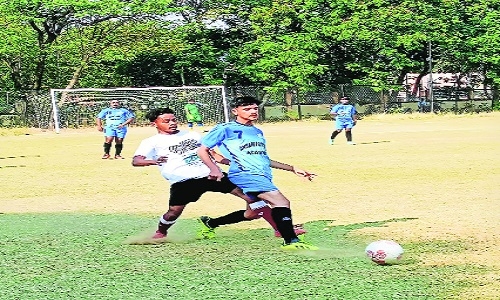 Sports Reporter
SHAFIQUE Ahmed scored a hat-trick as Young Ansar Boys humbled a ten-man Eagle Club 6-0 in NDFA-JSW Senior Division Football Tournament. Ahmed scored in 13th, 42nd and 50th minutes and was aided by Azhar Sheikh (35th, 38th) and Shaheed (60th). Eagle's Anugrah Pandey was shown yellow cards (8th and 10th) inside first ten minutes that made the team play the entire match with one man short. Ansar's Rizwan (36th) and Faizan (60th) were also cautioned.
Rahul Academy pipped ONFC 1-0 riding on a second half goal from Devanshu Kanojiya in 50th minute of play.
Ansari FC recorded a comfortable 3-1 win over Young Boys. Vipin Brahmane (51st, 54th) and Satwan (71st) scored for the winners while Young Boys' Gulam Dastageer (73rd) scored one to reduce the deficit.
In A Division, with four goals from Vedant Kalode (4th, 16th, 20th, 26th), Sportian FC thrashed Amma FC 7-0. Other coals were scored by Himanshu Kamble (5th) and Nihal D (35th, 45th). Cradle FC scored a 1-0 win over Birsa Munda with the solitary strike coming from Ahfaz Ansari in 25th minute. Zainish FC were too good for Ira International registering a 4-1 victory. Ahtesham Ansari (15th, 26th, 55th) completed his hat-trick while Kaif Ansari (45th) scored one. Koushik Ingole (23rd) scored for losers.