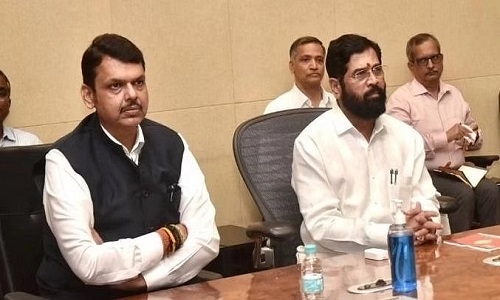 MUMBAI,
MAHARASHTRA Chief Minister Eknath Shinde on Monday announced a panel comprising senior bureaucrats to look into the demand of State Government employees to revert to the Old Pension Scheme even as their unions have decided to go ahead with the strike from Tuesday. The panel will give its report in a time-bound manner, officials said. Shinde and Deputy Chief Minister Devendra Fadnavis also appealed to the Government employees not to go ahead with the strike, which can potentially paralyse the functioning of the administration.
A meeting was chaired by Shinde, which was also attended by Fadnavis, Leaders of Opposition in the Assembly and Council Ajit Pawar and Ambadas Danve, respectively, Chief Secretary Manu Kumar Srivastava, Additional Chief Secretary (Finance) Manoj Saunik and various unions of the State Government employees. Acknowledging the role of employees in the State's growth, Shinde said the solution for their social security will be found through dialogue.
Shinde said there was no road map by the States that have implemented OPS.
Meanwhile, the Aam Aadmi Party (AAP) has extended its support for the restoration of OPS as its (Bhagwant Mann) Government has done in Punjab. Under OPS, the pension amount is provided by the Government, which increases its liability, whereas the NPS has a contributory mechanism from the employee as well as the Government. While the BJP at the Centre has steadfastly refused to go back to the OPS, parties like the Congress have been batting for it. Several employees' groups have been protesting across the country for reintroduction of the OPS.