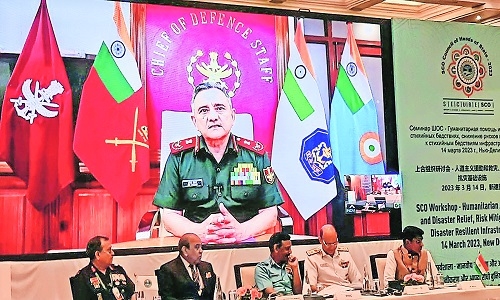 NEW DELHI,
INDIA has emerged as the first responder in humanitarian assistance and disaster relief (HADR) at the global level, Chief of Defence Staff General Anil Chauhan said on Tuesday. General Chauhan said this in a virtual message at a workshop organised by the Integrated Defence Staff (IDS) of the Ministry of Defence as part of India's chairmanship of the Shanghai Cooperation Organisation (SCO).
It was attended by speakers from Kazakhstan, Kyrgyz Republic, Belarus, Mongolia, Pakistan and China along with representation from Russia in the virtual mode, the Defence Ministry said. "In keeping with our cultural beliefs of Vasudhaiva Kutumbakam -- the whole world is one family -- India has been playing an important role in providing HADR in the region and beyond," General Chauhan said, citing India's HADR operations in the region and beyond.
He said the timely launch of 'Operation Dost' following the recent earthquake in Turkey is a testimony to India's willingness to extend help to all possible corners of the globe. The CDS added that collective approach is essential to mitigate the consequences of disasters and with this objective India has been holding multilateral exercises with various countries and multilateral organisations such as the HADR exercise PANEX 21 for BIMSTEC members at Pune in 2021, SMANVAY 22 for ASEAN members in Agra in 2022. "By strengthening multilateral partnerships through engagement via regional mechanisms, improved interoperability, and faster response, we have played our role as the first responder in the region," General Chauhan said.