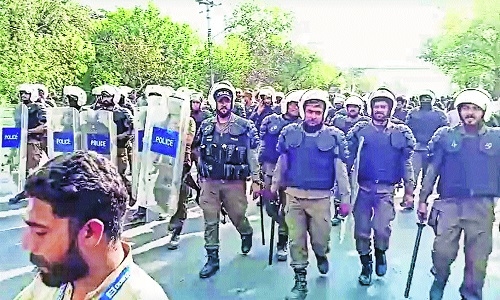 By M Zulqernain
LAHORE,
POLICE on Tuesday fired tear gas and used water cannons to disperse supporters of Pakistan's ousted Prime Minister Imran Khan who gathered outside his residence here to prevent his arrest in the Toshakhana case. TV footage showed police slowly approaching the Zaman Park residence of Khan behind an armoured vehicle that was dispersing his supporters with a water cannon.
A senior police officer of Islamabad police said that his team has come here to arrest the Pakistan Tehreek-e-Insaf (PTI) chairman in the Toshakhana case. Khan has been in the crosshairs for buying gifts, including an expensive Graff wristwatch he had received as the premier at a discounted price from the state depository called Toshakhana and selling them for profit. Clashes erupted between police and PTI workers when the former approached Khan's residence to arrest him. His supporters, who had covered their faces with pieces of cloth, pelted stones at policemen resulting in injuries. According to reports, Islamabad Deputy Inspector General (Operations) Shahzad Bukhari, who was leading the police team, was injured. He was seen walking with the help of two officials. Both Khan's supporters and policemen were injured in the clashes.
In a video message, Khan urged his supporters to come out for real freedom as police had arrived to arrest him. "They think that after my arrest, the nation will fall asleep. You have to prove them wrong," Khan said in the video. "If something happens to me and I am sent to jail or if I am killed, you have to prove that you will struggle without Imran Khan and not accept the slavery of these thieves and of the one person who has been making decisions for the country," he said.