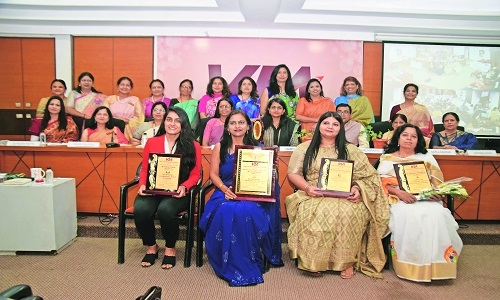 Business Bureau
Chief Executive Officer of Nagpur Zilla Parishad Saumya Sharma urged lady entrepreneurs to come forward with new ideas for helping self help groups (SHGs) of women and make them more self-reliant. Expressing her views at event to mark International Women's Day at VIA in the city on Wednesday, she also appreciated the vibrant and energetic team of Lady Entrepreneurs Wing of Vidarbha Industries Association (VIA) for organising the meaningful programmes.
Sharma, who was chief guest of the function, said such events boost the morale of other ladies of the society. She further highlighted various activities of the Zilla Parishad in the field of health care, education and women welfare.
Guest of honour, Asha Agasti, Assistant General Manager (FI) of State Bank of India, appreciated the women entrepreneurs, saying that they are multitasker and aptly manage their home as well as business activities very smoothly.
Poonam Lala, Chairperson, VIALEW, in her welcome address, spoke about the activities of the wing. Madhubala Singh, Advisory Committee member – VIA LEW, emphasized on importance of International Women's Day.
The VIA LEW also conferred awards to the winners in various categories. Dr Rajeshwari Wankhede won the award in 'Social category'; Amandeep Kaur Sehmi from Bio Excel Life Sciences & Research won the award in 'Service category'; while Ankita Chawla from Emission Free won the award in 'Trading category' and Aarti Sabnis from Aartyz won the 'Best Lady Entrepreneur' in Manufacturing Unit. Vishal Agrawal, President of VIA, congratulated the winners. Project Directors, Vandana Sharma, Manisha Bawankar and Yogita Deshmukh jointly conducted the proceedings. Rashmi Kulkarni, Secretary - VIALEW, proposed a vote of thanks. Founder Chairperson, Sarala Kamdar, IPP Manisha Bawankar, Past Chairpersons - Y Ramani, Neelam Bowade, Anjali Gupta, Dr Anita Rao, Vandana Sharma, Shachi Mallick; Vice Chairpersons - Indu Kshirsagar, Shikha Khare and others were present.