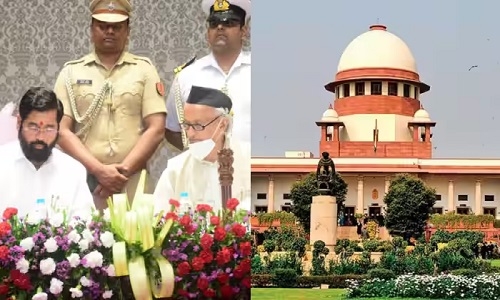 NEW DELHI,
CALLING for a trust vote merely on the ground of differences between MLAs of a ruling party can topple an elected Government, the Supreme Court observed on Wednesday, adding the Governor of a State cannot lend his office to effectuate a particular result.
"It will be a sad spectacle for democracy," a five-judge constitution bench headed by Chief Justice D Y Chandrachud said while taking forward the hearing on the events that unfolded during the June 2022 Maharashtra political crisis triggered by a revolt in the then undivided Shiv Sena by MLAs loyal to Eknath Shinde.
The bench made the observations after Solicitor General Tushar Mehta, appearing for the Maharashtra Governor, narrated the sequence of events and said that there were various materials before the Governor including a letter signed by 34 Shiv Sena MLAs, a letter from Independent lawmakers withdrawing support to the Uddhav Thackeray Government, and another of the Leader of the Opposition that prompted him to order a trust vote. B S Koshyari, who was then the Governor of Maharashtra, had asked Thackeray to face a floor test to prove his majority. Thackeray, however, resigned in the face of imminent defeat, paving the way for appointment of Shinde as the new CM. "Difference of opinion among MLAs within a party can be on any ground like payment of development fund or deviation from party ethos but can that be a sufficient ground for the governor to call for the floor test? Governor cannot lend his office to effectuate a particular result. Calling for a trust vote will lead to toppling of elected Govt," the bench said. The bench, also comprising Justices M R Shah, Krishna Murari, Hima Kohli and P S Narasimha also said, the Governor should have questioned the (Shiv Sena) MLAs that they were in a "happy marriage" with the Congress and the NCP for three years and then suddenly what happened in a day that they wanted to go out of the alliance.