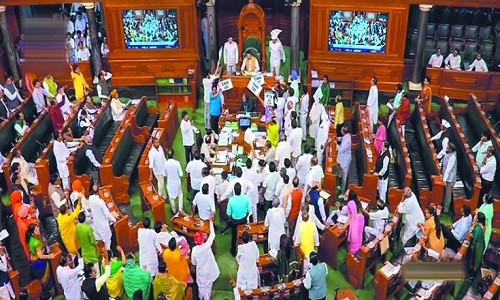 NEW DELHI,
PARLIAMENT proceedings were adjourned for the day on Wednesday amid slogan shouting by Opposition and treasury benches over Congress leader Rahul Gandhi's "democracy under attack" remark made in the UK.
As soon as the Lower House assembled, Opposition members stormed into the Well holding placards and shouting slogans. They demanded a Joint Parliamentary Committee (JPC) probe into the alleged stock manipulation by the Adani Group. Members of the treasury benches also raised counter slogans, demanding an apology from Gandhi for his remarks made during an event in the UK. Gandhi had alleged that the structures of Indian democracy are under attack and there is a "full-scale assault" on the country's institutions.
The remarks have triggered a political slugfest. The BJP has accused Gandhi of maligning India on foreign soil and seeking foreign interventions, while the Congress has hit back at the ruling party by citing instances of Prime Minister Narendra Modi raising internal politics abroad.
House proceedings have remained disrupted since resuming for the second leg of the budget session on Monday. On Wednesday, Lok Sabha Speaker Om Birla repeatedly urged the members to return to their seats and allow the House to run. As the members refused to relent, the Speaker initially adjourned the House till 2 pm. When the house resumed, the sloganeering continued even as Bhartruhari Mahtab, who was in the Chair, kept requesting for order. Amid the ruckus, The Inter-Services (Command, Control and Discipline) Bill, 2023 was introduced in the house by Ajay Bhatt.