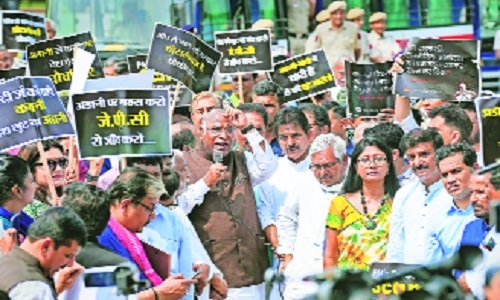 NEW DELHI,
LEADERS of several Opposition parties were on Wednesday stopped by the police at Vijay Chowk here as they took out a protest march from Parliament House to hand over a complaint to the Enforcement Directorate on the Adani issue. As the Opposition leaders were stopped from proceeding to agency's office, they returned to Parliament complex.
Congress President Mallikarjun Kharge alleged that the police was not allowing the Opposition MPs of around 18 parties to march in protest and present its case for a detailed investigation into the Adani issue. The police said, the Opposition MPs cannot march forward as Section 144 CrPC was imposed in the area. "Opposition MPs of nearly 18 parties want to give a memorandum to the Enforcement Directorate on the Adani issue, but the Government is not allowing us to march forward and the police have stopped us at Vijay Chowk," Kharge told reporters.
"We want to present our case to ED for a detailed investigation on the Adani issue and we will keep trying to march forward," the Congress chief said. The protest march began at 12:30 pm from Parliament House and MPs from several Opposition parties took part. The TMC and NCP, however, were not part of the Opposition protest march.
The Trinamool Congress earlier separately staged a protest in front of the Gandhi statue in Parliament complex over the LPG price hike and demanded answers from the Government. TMC leader Sudip Bandyopadhyay said they would not participate in the Opposition march and would stage their own protest.