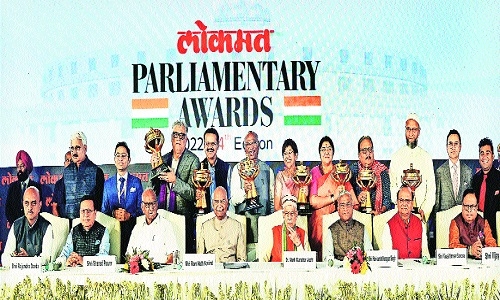 NEW DELHI,
FORMER President of India Ram Nath Kovind honoured eight parliamentarians with the Lokmat Parliamentary Awards for their exemplary contribution to parliamentary democracy in a ceremony held at NDMC Convention Centre in New Delhi, on Tuesday. This was the fourth edition of Lokmat Parliamentary Awards. Congress president and the leader of Opposition in Rajya Sabha Mallikarjun Kharge and Biju Janata Dal MP Bhartruhari Mahtab were honoured with the Lifetime Achievement awards while Trinamool Congress' Derek O'Brien and AIMIM's Asaduddin Owaisi were honoured with the Best Parliamentarian awards.
NCP's Vandana Chavan and BJP's Locket Chatterjee were conferred with Best Woman Parliamentarian awards while Rashtriya Janata Dal MP Prof Manoj Kumar Jha received the Best Debutant Parliamentarian award. Rajya Sabha Deputy Chairman Harivansh Narayan Singh, Delhi Lieutenant Governor Vinai Kumar Saxena, Nationalist Congress Party president and member of Parliament Sharad Pawar, former Union Minister of HRD, Science & Technology and senior BJP leader Dr Murli Manohar Joshi and Union minister of state for finance Dr Bhagwat Karad were guests of honour on the occasion. Chairman of editorial board of Lokmat Media Group and former member of Rajya Sabha Vijay Darda, editor-in-chief of Lokmat Media Group Rajendra Darda, managing director and editorial director Devendra Darda, joint managing director and editorial director Rishi Darda, executive director and editorial director Karan Darda and news director of TV9 and jury member Hemant Sharma were prominently present on the dais.
Addressing the gathering, former President Kovind, who was the chief guest of the event, said, "India is the only country to grant universal franchise to its citizens from the beginning. Other countries had put some conditions for obtaining the right to vote. Women in India got this right from day one unlike many developed nations where they had to struggle." The award winners are selected by a jury board consisting of individuals who have distinguished themselves in parliamentary affairs.