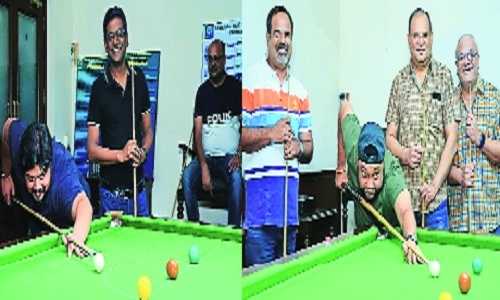 Sports Reporter
AJAY Sharma and Faiz Vali pocketed the highest score of the tournament as they went on to beat Ajitsingh Chawla and Abazar Chimtanwala in the onging CP Club's Advocate Naidu Memorial Snicket Tournament on Thursday evening. The Sharma-Vali pair rolled on balls to the pockets by cueing them perfectly to score a whopping 302.
While Sharma pocketed breaks of 52 and 45, Faiz Vali demonstrated some wonderful cueing by scoring breaks of 35 and 28. In reply, Chawla-Chimtanwala could score 104 and suffered an innings defeat.
In another match, the pair of Vikrant Gulati and Yogesh Padole (153) continued their winning spree as they defeated seeded players Tarun Mohta-Vaibhav Rai (100) by 53 points. The team of Nikhil Surjan-Karan Kale stunned seasoned team of Vishal Panchmatiya-Rajesh Mohta. Surjan-Kale scored 244 against which Panchmatiya-Mohta could reach out to 201 and lost the game by 43 points.