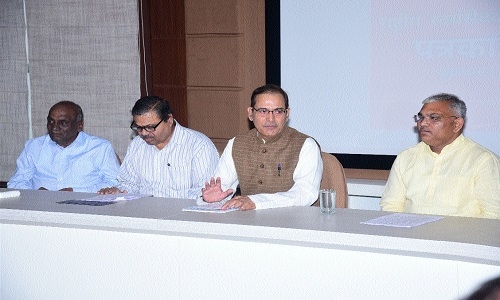 Staff Reporter
"Rashtriya Swayamsevak Sangh (RSS) believes that India will always be a Hindu nation and there is no need of any kind of official declaration. Some anti-national organisations are trying to create anarchy in India in the name of religion and other irrelevant issues as incidents like JNU, funding Naxalism and religious conversion are its examples.
During Akhil Bharatiya Pratinidhi Sabha held in Haryana recently, RSS held serious discussions on such issues and decided to crush these conspiracies through public awareness and make the country 'Vishwa Guru' during Amritkal," said Dr Pradeep Dubey, Prant Sanghchalak while addressing a press conference, on Friday.
Prant Sanghchalak Dr Dubey added that during Pratinidhi Sabha it was informed that India equally respects other countries but some foreign powers are not accepting the global acceptance of India and trying to bring instability in India. Anti-national organisations are provoking our own citizens to fulfill their motive and RSS is working to bring social, educational, economical, democratic awareness to strengthen our citizens for crushing foreign conspirators and making India a world power. Dr Dubey informed that in order to materialise its vision and mission, RSS has strengthened its organisation and going to celebrate Centenary Year of its service to the nation in 2025.
It is working for social causes at 71,355 places and targeted to stretch its work at 1 lakh places till 2025. Organisational activities of RSS expanded after COVID in year 2020 as numbers of Shakhas increased to 68,651 at 42,613 places and weekly Milan at 26,877 places and 10,412 monthly Milan programmes. The Sangh has total 911 districts in the country and direct working in 901 districts. Sahprant Karyavaha, Aniruddha Kaurvar narrated the statements of Sarkaryavah Dattatreya Hosabale on the occasions of 2550th Nirvan years of Mahaveer Swami, 350th Rajyarohan of Chhatrapati Shivaji Maharaja and 200th birth anniversary of Maharshi Dayanand Saraswati.
Vibhag Sanghchalak, Dr Kailash Gupta, Prant Prachar Pramukh, Vinod Kumar, Sah Prachar Pramukh, Prashant Bajpai, Shivnarayan Patel, Vibhag Prachar Pramukh, Vinay Solanki, Shrinivas Rao and others were present.