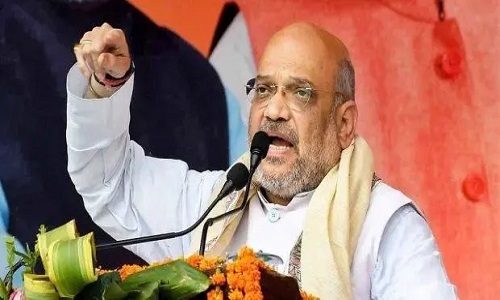 Staff Reporter
Addressing a press conference in Dhar on Friday, State President of Bharatiya Janata Party and MP Vishnudatt Sharma said that Madhya Pradesh is the State of Thakreji and the organisation of the party here is very strong. He told that Union Home Minister Amit Shah will inaugurate the Vijay Sankalp Rally from Chhindwara on March 25 with the wish of victory in every seat and will address the workers' conference. On the other hand, the National President of the party J P Nadda will come to Bhopal on March 26 and will perform bhoomipujan of the new State office building of the party.
BJP Government is working for the development of every section. he said. Sharma said that the people of the State have also seen Madhya Pradesh before 2003. There was a Congress government headed by Digvijay Singh and the public was crying. After that, people have also seen the Kamal Nath government formed by mistake for 15 months, which used to run on the instructions of Digvijaya Singh. That government had done the work of snatching the rights of the poor by stopping the schemes of public interest in the State. The BJP government under the leadership of Chief Minister Shivraj Singh Chouhan is working for the development of every section. The Ladli Bahna Yojana implemented by the State Government is a historic step in this direction, he added. Welfare schemes for poor our strength: Sharma said that in the year 2023-24, the party will enter the fray with a resolve to achieve the target of 51 per cent votes. For this, every worker of the party is engaged in strengthening the booths. Our biggest strength in the State is the poor welfare schemes started by the BJP government. He said that in a democracy, the one who works for the public among the public, survives and the people of the State know very well who does the work of development.
Rahul Gandhi should apologise for defaming the country: Vishnudatt Sharma said that on the one hand the leaders of most of the countries of the world are saying that if anyone can find a solution to the war between Russia and Ukraine, it is India and the Prime Minister of India, Narendra Modi only. On the other hand, Congress leader Rahul Gandhi is doing the work of defaming India abroad. They are lying that I am not being allowed to speak. Rahul Gandhi should apologise for defaming the country and lying. He said that like him, some people in Madhya Pradesh also want to do politics of lies and deceit and want to destabilise the state. For this, the official Twitter handle of the Congress is being used. During the conference, Indore division organisation co-incharge Raghavendra Gautam, district organisation incharge Shyam Bansal, district president Rajeev Yadav, party's state minister Jaideep Patel, MP Chhatarsingh Darbar, district panchayat president Sardar Singh Meda and all officials of the party were present.