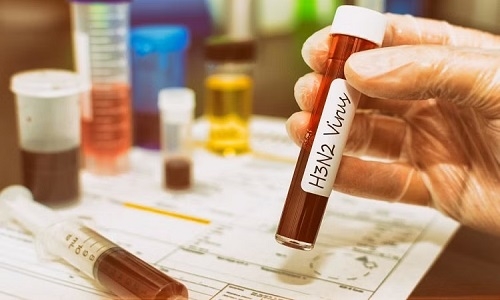 Staff Reporter
The first case of H3N2 influenza was detected in Bhopal after which the virus-related infection has entered Madhya Pradesh. On Thursday, the report of a Bairagarh based 26-year-old youth has been found H3N2 positive, who does not have any travel history. After having symptoms of the infection his sample was sent to AIIMS, Bhopal, laboratory on Monday. Later, the laboratory confirmed the case as positive for H3N2, said Bhopal Chief Medical and Health Officer (CMHO) Dr Prabhakar Tiwari. H3N2 has been the dominant subtype followed by H1N1. The Bhopal patient is now among 14 new cases of H3N2 diagnosed during the week in the country. The Health Commissioner has issued an advisory in this regard to the CMHOs and civil surgeons of all the districts. Apart from this, it will be investigated in Bhopal, Gwalior and Jabalpur. At the same time, instructions have been given to make adequate arrangements for necessary equipment, medicines and medical oxygen in the hospitals. According to the Directorate of Health, four days ago, a 25-year-old youth living in Bairagarh had complained of cold and cough. His swab sample was sent to AIIMS, Bhopal, for testing for Influenza H3N2. The report came positive on Thursday. At present, the youth has been quarantined at home.
Medical Education Minister Vishwas Sarang said that the health of the H3N2 positive youth is stable. He does not need to be admitted to the hospital. Diabetic, heart, liver, kidney, cancer and respiratory patients are more at risk. According to the advisory, the risk of H3N2 infection is high for small children, pregnant women, sugar, heart, liver, kidney, cancer and respiratory patients. The immunity of the person suffering from these diseases is low. Also, individuals suffering from related diseases tend to be immuno compromised. According to the guideline, these patients of the immuno-compromised category can become serious if they get infected with H3N2 and H1N1. They may also have to be admitted to the hospital. Ensure availability of medical oxygen. The Health Commissioner has called a meeting of the District Task Force to the CMHOs and Civil Surgeons of all the districts and instructed them to review the preparedness for treatment.
In the meeting, ensure the availability of treatment arrangements, necessary equipment, medical oxygen in hospitals. In addition, also check infection manpower mapping and the status of COVID-19 and influenza vaccinations.
For such patients suffering from cold, cough and fever, who have symptoms like H3N2, a swab will be taken from the throat of the concerned person for their examination. It should be sent to the designated lab for H3N2 influenza test.