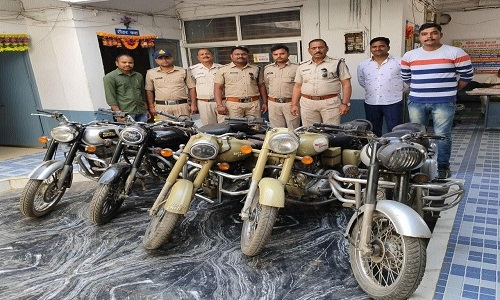 Staff Reporter
Patan police busted a gang of bullet-lifters, nabbed four accused and seized five bullets amounting to Rs 10 lakh, on Friday. The arrested have been identified as Raman Vishwakarma (21), son of Komal Prasad Vishwakarma, resident of Patan, Ankit Thakur (21), son of Karan Singh Gond, resident of Madhotal, Sandeep Mehto (21), son of late Sukku Mehto and Rahul Gupta (23), son of Manoj Kumar Gupta, resident of Gohalpur.
SHO of Patan police station, SI, Ravi Upadhyay informed that police received information about a suspected man named Raman Vishwakarma who was sight with stolen bullet at his house. Taking prompt action on the information, police conducted search at identified house and seized a bullet. Police detained the suspected man Raman who failed in providing any information about the bullet. In the interrogation, the accused broke out and confessed the stealing of bullet with his accomplices Ankit Gond, Sandeep Mehto and Rahul Gupta. On his identification, police started a rigorous search and nabbed the three more vehicle lifters and retrieved five stolen bullets from them amounting to Rs 10 lakh. The accused disclosed the stealing of bullets from Vijay Nagar and Gohalpur areas. Patan police have arrested the four accused under Section 41(1-4) of CrPC and Section 379 of IPC while further investigations are underway.
The vehicle lifters were apprehended with active working of police team led by SI, RS Upadhyay comprised of SI, Pradeep Tomar, SI, Durgesh Maravi, SI, Akash Deep, Head Constable, Deepchand, Constables, Prakash Singh, Mohit Kushwaha, Anurag Raikway, Amit Thakur, Abhimanyu Singh and Cyber Cell's Head Constable, Amit Patel and Constable, Aditya.