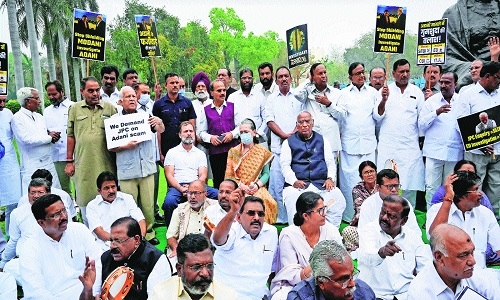 NEW DELHI,
PARLIAMENT was adjourned for the day on Friday amid continued protests by both treasury benches and Opposition members over Rahul Gandhi's remarks and Adani issue. Both Lok Sabha and Rajya Sabha were adjourned within 20 minutes amid ruckus.
The BJP MPs raised slogans in both the Houses demanding an apology from the Congress leader, while the Opposition MPs continued to target the Centre over the Adani issue. Though Speaker Om Birla tried to run the proceedings by announcing Question Hour and asked Congress MP Manish Tewari to put up his question, he adjourned the House after around 20 minutes amid chaos. Parliament will now reconvene on March 20. The adjournment meant that the entire week's proceedings were washed out without any business having been transacted in both the Houses.
In an unprecedented move, the ruling BJP members have been stalling the proceedings in both Houses, seeking Congress MP Rahul Gandhi's apology over his remarks on democracy in London. The Congress-led Opposition has been protesting over the Government's silence on the Adani Enterprises issue. It has been seeking a joint parliamentary committee (JPC) probe into the matter. Rahul Gandhi and Sonia Gandhi were present in the Lower House.
Proceedings on Sansad TV were mostly inaudible. While Parliament sources said it was the result of a 'technical glitch', several Congress leaders alleged that proceedings were 'muted' when its MPs raised slogans demanding that Gandhi be allowed to speak. Leader of the Congress in Lok Sabha, Adhir Ranjan Chowdhury on Friday sought to know why the BJP was scared to hold discussions in Parliament. "Why are the BJP party members speaking here and there? Why are they scared to hold discussions in Parliament? BJP is scared of Rahul Gandhi.