People may have different modes of worship but should realise goal is same: RSS chief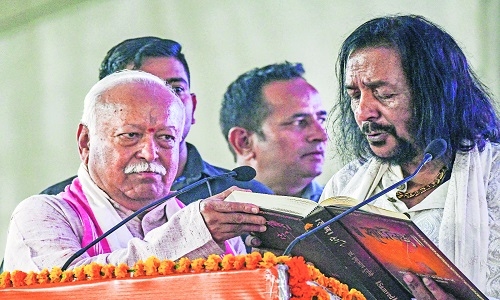 NEW DELHI,
RSS chief Mohan Bhagwat on Friday underlined the Vedas' acknowledgement of various paths undertaken by people to realise the spiritual truth and asserted that the world needs this understanding at this time of conflicts.
Speaking here at the release of an Urdu translation of the Samveda, one of the four Vedas, which are regarded as foundational texts of Hinduism, Bhagwat said different people may have different modes of worship but what should be realised is that the goal is same.
One should not fight over different means and this is the message which is relevant for all and is something that India has to offer to others, the top functionary of the Rashtriya Swayamsevak Sangh (RSS) said.
In his speech, Bhagwat quoted various parables sourced to ancient texts to stress that the same truth can be perceived differently by different people. The one who guides all is known by different names, he said, underlining the need for interfaith harmony.