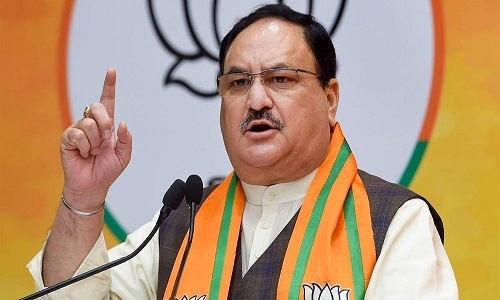 NEW DELHI,
BJP President JP Nadda led his party's attack on Rahul Gandhi on Friday over the Congress leader's recent comments made in the UK on the state of Indian democracy, charging him with becoming a "permanent part of the anti-India toolkit" that seeks a weak government here so as to exploit it for its benefits.
In a statement, Nadda accused Gandhi of speaking the language of 'anti-India' George Soros, a billionaire financier, and alleged that the Congress and the "so-called Left liberals" have become a part of the 'deep state' conspiracy involving foreign forces against the country. 'Anti-national' Congress leaders have been speaking the language of Pakistan, he added. Gandhi will have to apologise to the people of India for his 'sin' of seeking the 'interference' of foreign powers in the country's internal affairs, BJP President said.
He accused the former Congress chief of joining hands with foreign conspirators against India to encircle the country economically and strategically. Never before in independent India any leader has done what Gandhi has done on foreign soil, he said. "This is a most serious matter," Nadda said, adding that what the Congress leader has done has hurt every patriotic MP as well as the people of the country. Those working against India want a weak Government working under the compulsions of an alliance for their benefits, he said.
Those anti-nationals themselves must not preach patriotism: Kharge slams Nadda: Hitting back at Nadda for his criticism of Rahul's remarks made in the UK, Congress President Mallikarjun Kharge on Friday said those who are "anti-nationals" themselves must not preach his party about patriotism and must learn from it instead. Kharge said the BJP is making such allegations to hide and divert attention from the "horrifying unemployment, backbreaking price rise and the scam of its 'best friend'".