SSC student admits father to hospital, appears for exams, returns home for his funeral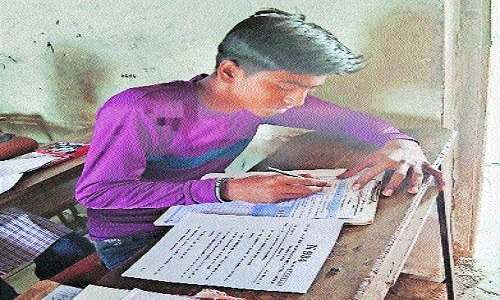 Arvi Correspondent
The very powerful 'Time' can be extremely cruel at times, changing someone's life upside down in no time. Dheeraj Ghasad, a student of Class 10 appearing for his board examination found himself caught in this twirl of Time, in most cruel manner, on Friday.
With his Science paper scheduled on Friday, Dheeraj Ghasad of Danapur, was going through his last minute revision, when his father Dhanraj Ghasad, aged 48, suddenly suffered a cardiac arrest. Rushing his father to a hospital at Sevagram and admitting him there, Dheeraj rushed to his school Dr Devidas Karale Vidyalaya, Pimpalkhuta, which was also his centre, at around 10.30 am. In that state of mind, he appeared for this exam. Meanwhile, at around 11 am, his father breathed his last at Sevagram hospital. His father's mortal remains had arrived at Danapur at around 12 noon. But the teachers at the Centre let him finish his paper and only then he was informed about his father's death. He was then taken to Danapur.
Dheeraj completed his paper at around 1.30 pm after which he reached Danapur, where the last rites of his father were performed at around 2 pm. Dheeraj has a younger sister studying in Class 7 at the Zilla Parishad School in Danapur.
His father's sudden death shook the Ghasad family hard. Dheeraj has three papers still remaining. Such a tragic turn of events in a day in a young boy's life has shaken the entire village.