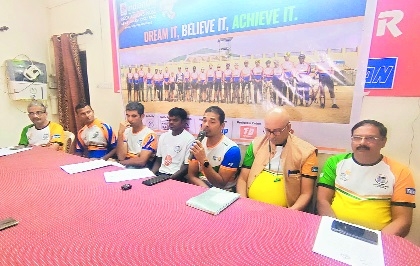 Dr Amit Samarth (3R) makes a point while participants and race officials look on.
Sports Reporter :
INAUGURAL edition of Race Across India, an event that will create history in ultracycling world, has made the participants 'complete cyclists'. A host of winners and participants came together to share their experiences of the race with the media on Saturday. The 3651 kms race form Srinagar to Kanyakumari was sponsored by Indian Oil in India's 'Azadi ka Amrit Mahotsav' year. "This race has given a platform to cyclists all over India to perform in a challenging atmosphere and showcase their endurance which will be recognised by world ultracycling association. It provided them a chance to compete with fellow riders. "It proved that it's just not about pedalling thousands of kilometres but management of the obstacles and challenges coming their way while reaching finish line in given time-frame. "The challenges included vast weather difference between cold north to hot south," said Dr Amit Samarth, who won the race in solo (18-50 age category) in record time. With a cut-off time of 12 days, City Bicyle Mayor Dr Samarth completed the race in just 6 days, 23 hours and 39 minutes shattering the earlier record of k2k by a massive over 24 hours. Dr Samarth also declared that India is safe for such a big race and a world-level event can be held on the route. Punjab's Manish Saini, who is from IT field, was impressed with the use of technology in the race and added that by facing a lot of testing situations during entire race, the riders have now become complete cyclists. "I am very much impressed by the way technology was used in the race.
Our family and friends were tracking us live at all the moments. "They knew we were exactly at what place at what time. Also, since this being the first race of its kind, we, racers from different States, found many things and new challenges all along. I can say that after completing the race, we have now become complete cyclists," said Saini, who finished 5th in the solo race. Atul Kadu, an SRPF Personnel from Nagpur, who finished the race in 10 days' time on a single speed cycle, said that the moment he sat on the saddle at the start line at Bakshi Stadium in Srinagar, his only aim was to finish the race in time. At 24 years, the youngest in solo category, specially-abled Shubham Das, also from Nagpur, finished the race in 9 days, grabbing third position in overall rankings. "I set small goals. I divided the big race in small parts. My targets would be 300km at one time. This helped me a lot. Though I am a differently-abled, I never think of one and always say to myself, that if any able person can do it, so can I," Das shared his strategy. Race Director Jitendra Nayak and Route Director Dilip Warkad made introductory remarks.