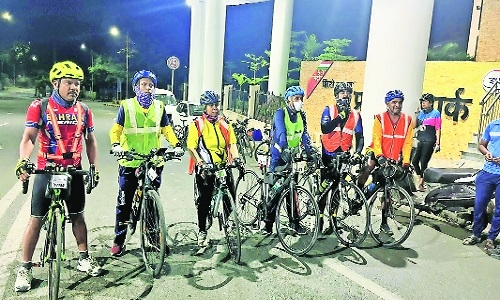 Sports Reporter
FOUR riders from Nagpur Randonneurs (NR) successfully completed a 1000km BRM recently. All the four riders completed the BRM in stipulated time of 75 hours. A total of nine riders had registered for the event.
Among the finishers were Chandrakant Sharma, a senior citizen from Chhattarpur, Jeetendra Singh Parmar, Ramanprakash Naktode both from Nagpur and Yusuf Sheikh from Washim.
The riders proceeded from Zero Mile to Wardha and then to Hyderabad via Butibori, Jambh, Pandharkawada, Adilabad, Nirmal and Chegunta and came back to Nagpur. It was one of the toughest BRM routes where one had to fight, elevation, winds and scorching Sun. The successful riders braved out against these odds and finished the ride in style. The ride, which continued for four days and three nights was ably conducted by NR volunteers Jitesh Thakkar, Mangesh Pahade, Sameer Lohi and Amol Ramteke. The next BRM, a 400km ride, will be held on March 18. NR has appealed interested riders to participate in the event to test their endurance. Details of the ride are available on Audax India website.